All Training Cancelled In View Of England Athletics Statement.
Statement:
The UK government has advised that everyone in the UK should now avoid "non-essential" travel and contact with others to fight coronavirus.  Whilst it has not issued any ban on public gatherings of any size either indoors or outdoors at this stage, the advice is to avoid non-essential contact with others, including going to sporting events, pubs, clubs, theatres and social venues.
As a result, England Athletics advises that all face-to-face activity such as club training sessions, events, competitions, club committee and face-to-face meetings, athlete camps, running groups and social events should be suspended until further notice. 
The decision has been taken in the interests of athletes, runners, officials, coaches, volunteers, supporters and the wider athletics and running communities. This decision is also in alignment with actions taken by the home country athletics federations in Wales, Scotland and Northern Ireland and is similar to action taken by other sports.
Where possible, athletes and runners at all levels are encouraged to maintain their own personal fitness and keep active during this time, while following government guidelines about safe distance and safe exercise environments.
Ian Roberts Memorial Fell Race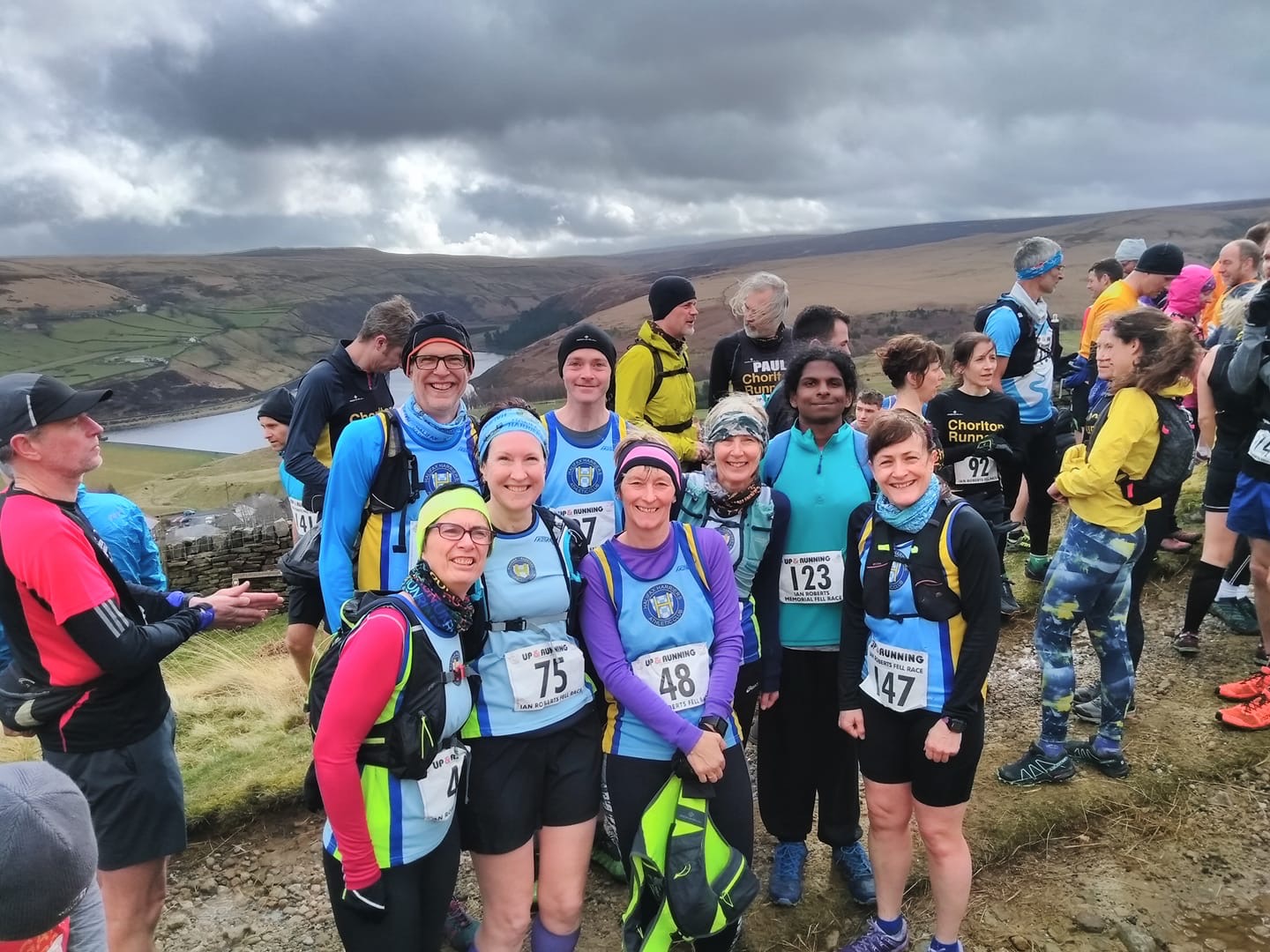 There were nine Harriers amongst the record 154 entrants at the annual Ian Roberts Memorial fell race, organised by Holmfirth Harriers. The race was the third of the year in our club fell running championship. The route, over the moors and hills above Marsden, is 6.5 miles long with around 1,100 feet of ascent. Conditions were generally fine, albeit very windy in places, although tailenders were caught in a hailstorm late on.
Heather Rajendran was First Lady Under 23 in 84:51. Will Carver was first Harrier home in 51st place in 66:53.  Stewart McConnell was close behind in 56th (67:40). Andrea Ackroyd led the six Harriers ladies home in 79:14 (108th). Other Harriers to run were Margaret Deacon, Jane Hobson, Fiona Murphy, Jenny St Romaine and Martin Ellis.
Nia Excels In Mud At Nationals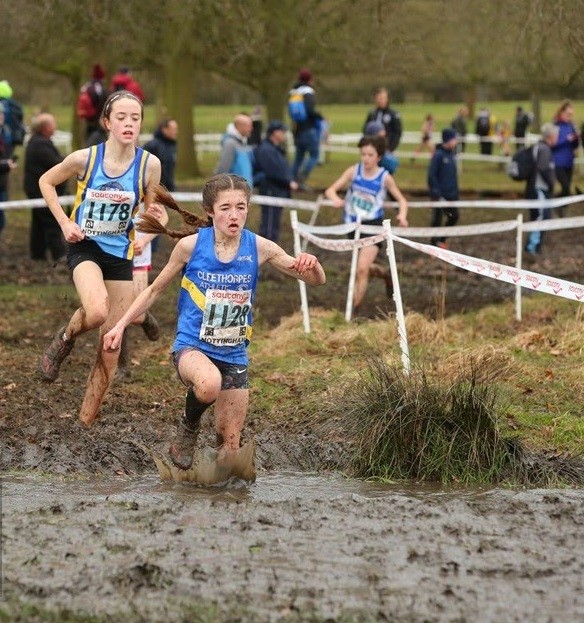 The National Cross Country Championships were held last Saturday at Nottingham over a very muddy course with one section knee deep in water and mud. 
In the U13 girls, Halifax Harriers star Nia Harrison-Sargent showed her potential when finishing in 32nd place out of a field of 360 runners, which was a great result considering that she has another year in this age group.  In the U17 boys, Ewan Wheelwright was 112th and in the U17 girls Ellie Horrocks was 83rd.
As the day went on the course gradually became a mud bath most of the way round, so there were some extremely dirty and tired runners. 
In the senior ladies, Bethan Davies was first back for Halifax Harriers in 630th place, with Hazel Berrett some two minutes behind in 690th place.  Halifax Harriers men were led home by Michael Gaughan 728th, followed by Ryan Barker 943rd, Michael King 1101 and Mark Gaughan 1554 out of a field of 1700 runners.
Over the winter months, Halifax Harriers runners have competed in the West Yorkshire, Yorkshire and Northern Cross Country Championships in addition to the National Championships.  Runners collect points over all the races towards the Club's Cross Country Championship. 
The U11 girls winner was Kitty Harrison-Sargent, with older sister Nia Harrison-Sargent the U13 winner.  The U15 girls winner was Elise Horner, U17 girls Ellie Horrocks, senior ladies Bethan Davies and the vets ladies winner Katrina Oddy.
In the male categories, the U11 winner was Sam Keighley, U13 Euan Logue, U15 Ned Hughes, U17 Ewan Wheelwright, U20 Harry Johnson, senior men Michael Gaughan and in the Vets a dead heat between Michael King and Ryan Barker.
All the senior awards will be presented at the Club's Annual Dinner at the end of March and the junior awards in April.
HUDDERSFIELD 10K
This hilly 10k saw five Halifax Harriers at the event.  First to finish was Will Stewart 41:51, closely followed by Sunny Curwen 42:12.  April Caufield was second senior lady in 45:51.  Judith Cole ran 48:52 to finish 1st F50.  Andrew Hills time was 55:44.