Road Running Groups Are Now Back In Action
At the present time there is still no track training for either junior or senior members. We have been in contact with the council and are awaiting their confirmation on when the track will open. We are not in a position to provide off site training for junior members at this time.
++++++++++++++++++++
On Tuesday 23rd June a number of members took part in a trial to see if we could re-start training for senior road runners. This was successful, so we are pleased to announce that training for senior road runners will start from Thursday  25th June.
Cars should be parked in the Mansion Car Park or on grass field. There will be no toilets and no club house. Please keep to 2m social distance at all times. If you bring a drink with you please do not share it with other members.
If more than 6 turn up for any group the group will split into sub-groups of 6 or less.
We are not taking new members at the present time, so please do not bring along your friends.
When groups split into 2 or more sub-groups the first sub-group will set off a few minutes in front of the second sub-group. The first sub-group will comprise the faster runners so they should not catch up at re-groups or road crossings.
All runners must maintain the 2m gap before the start and throughout the run, especially at re-group points and at road junctions.
All routes will be announced on the night.
All groups will set off at times stated, if you are not there we will not wait for you.
Group 5, Tuesdays at 6:30pm, Thursdays at 6:10pm
Group 4 will run at 6:30pm Tuesday and Thursday
Group 3 will run at 6:45pm Tuesday and Thursday
Group 2 will run at 7:00pm Tuesday and Thursday
Group 1 will run at 7:15pm Tuesday and Thursday
Ladies Bunk Barn 2021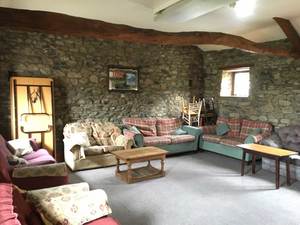 The 2020 Ladies Bunk Barn has had to be cancelled but has been re-arranged for 2021. It will be a two night stay from Friday 18th June 2021 and leaving the barn on the morning of Sunday 20th June 2021. It is at Stackstead Farm near Ingleton and is limited to 20 places. The cost will be approximately £40.00 (plus food and hire of the swimming pool) depending on how many ladies attend. There are a limited number of spaces still available. Please contact Debbie Kirkbride on kirkrhino@aol.com if you wish to attend. A £20 deposit will be required to secure your place. 
Annual Dinner And Senior Presentation Evening Cancelled
Due to the current restrictions on social gatherings, the Harriers Annual Dinner at the Imperial Crown Hotel on Friday 22nd May has had to be cancelled. This event and the Junior Presentation Evening will be re-arranged once the government gives the go ahead for events of this nature. 

Training at Spring Hall remains suspended until further notice. Where possible, athletes and runners at all levels are encouraged to maintain their own personal fitness and keep active during this time, while following government guidelines about safe distance and safe exercise environments.