Halifax Harriers Race Challenge Final Race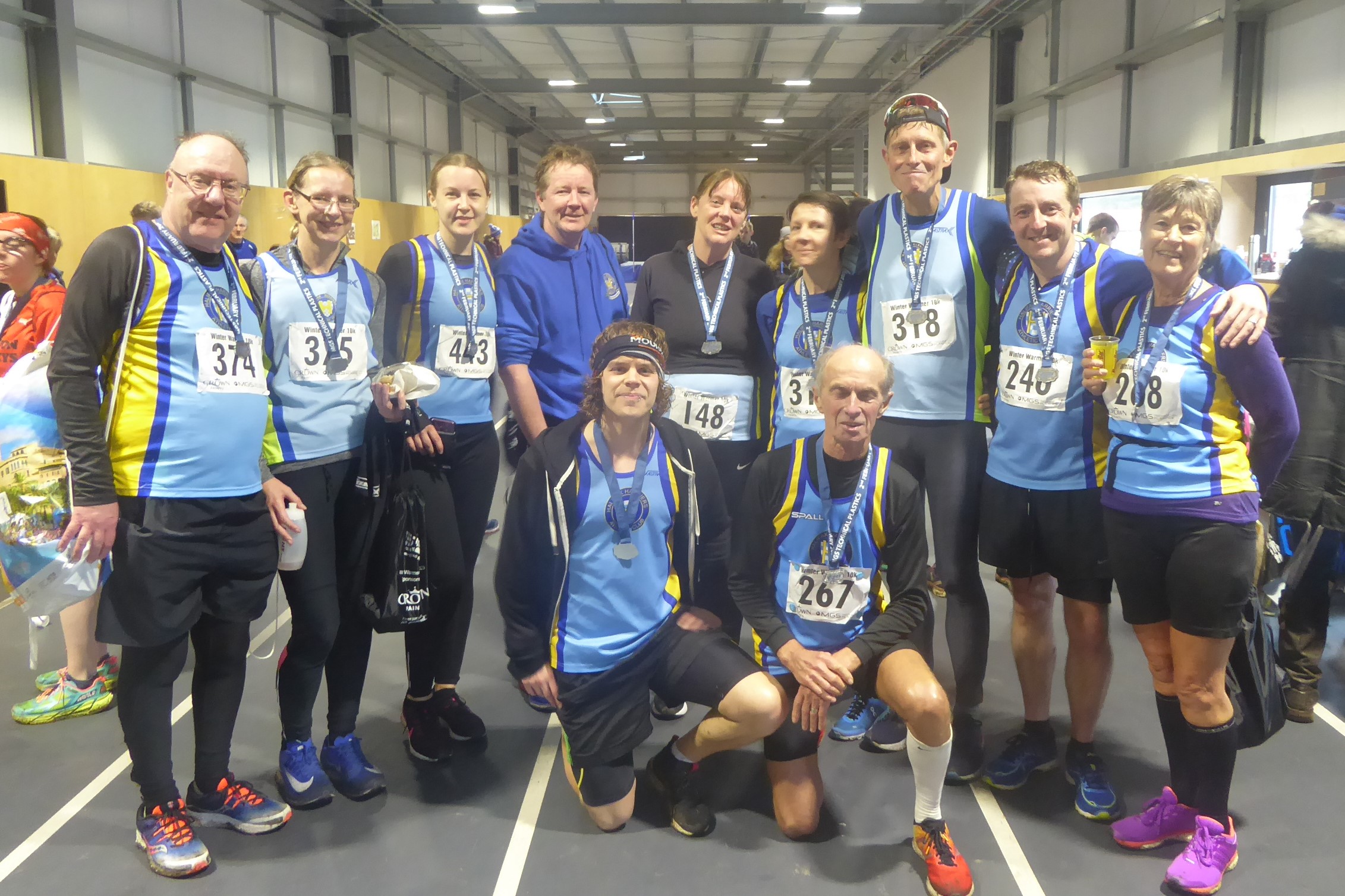 Halifax Harriers each year has a Race Challenge in which members compete over distances from 5k to half marathon.  Members are divided into five divisions depending on their 10k times. 
The final race for 2019/20 was the Blackburn Winter Warmer 10k.  This race is certainly a challenge with the first four kilometres uphill followed by some steep descents before the final two kilometres along the side of the River Darwen.  The race attracted over 700 runners and starts and finishes with a lap of Blackburn Harriers Athletic Track.
In division 'A', it was a battle between Will Stewart and Michael King to secure valuable points as it was a case of who was first back would win the division.  Both runners were neck and neck most of the way with Stewart pulling away to finish first some 27 seconds in front of King and securing the top position in the division.  Their times were Stewart 39:48 and King 40:15.
In division 'B', Mark Crabtree had already secured sufficient points to become champion so missed this race out, as did Jonny Lister the division 'C' champion. In Division 'E' Chris Kirkbride having also secured sufficient points did run and finished in 60.28.
However, in division 'D', Sharon Cousen continued her dominance in the last few races to overtake Rachel McCauley and knock McCauley off the top spot.  Cousen's time was 51:26 against McCauley's 53:36.
Other runners for the club were Will Carver 42:53, Paul Hopkinson 48:03, Ian Giles 48:05, Raymond Hall 48:29 (1st M70), Jenny Hopkinson 48:56, David Parrington 55:20, Deborah Kirkbride 58:30, Kirsty Carver 61:46, Susan Hall 64:27 (1st F70).
DEWSBURY 10K
Twelve Halifax Harriers competed in the fast Dewsbury 10k which starts on Dewsbury ring road before the runners go along Bradford Road towards Birstall.  There is a slight incline going out but it is a fast return back down the same way.  The course always produces some PB's for those in form on the day.
First back for the club was Michael Gaughan in 36:55.  Not far behind was Tom Paget in a PB of 37:51.  Helen Ward also set a PB in 41:05, as did Jonny Lister 43:12 and Bethan Davies 46:40.  Rachael Beaumont was first F50 in 43:01.
Other runners for the club were James O'Rourke 39:16, David Ingle 40:42, Mark Gaughan 45:16, Nigel Taylor 47:13, John Moore 55:59, Monica Gallagher 61:23.
ALSAGER 5 MILE
Five Halifax Harriers had some good runs at the popular Alsager 5 mile race.  Simon Johnson was first back in 30:09 (3rd M50) in a new M50 club record, eclipsing the old record set by Geoff Cumber in 2011 by just one second.  PB's were set by Sunny Curwen 31:33 and Paul Sutcliffe 31:52.  Katrina Oddy was 3rd F50 in 34:20 and Geoff Cumber also third in M70 age group in 36:05.
Halifax Harriers Ladies Triple Success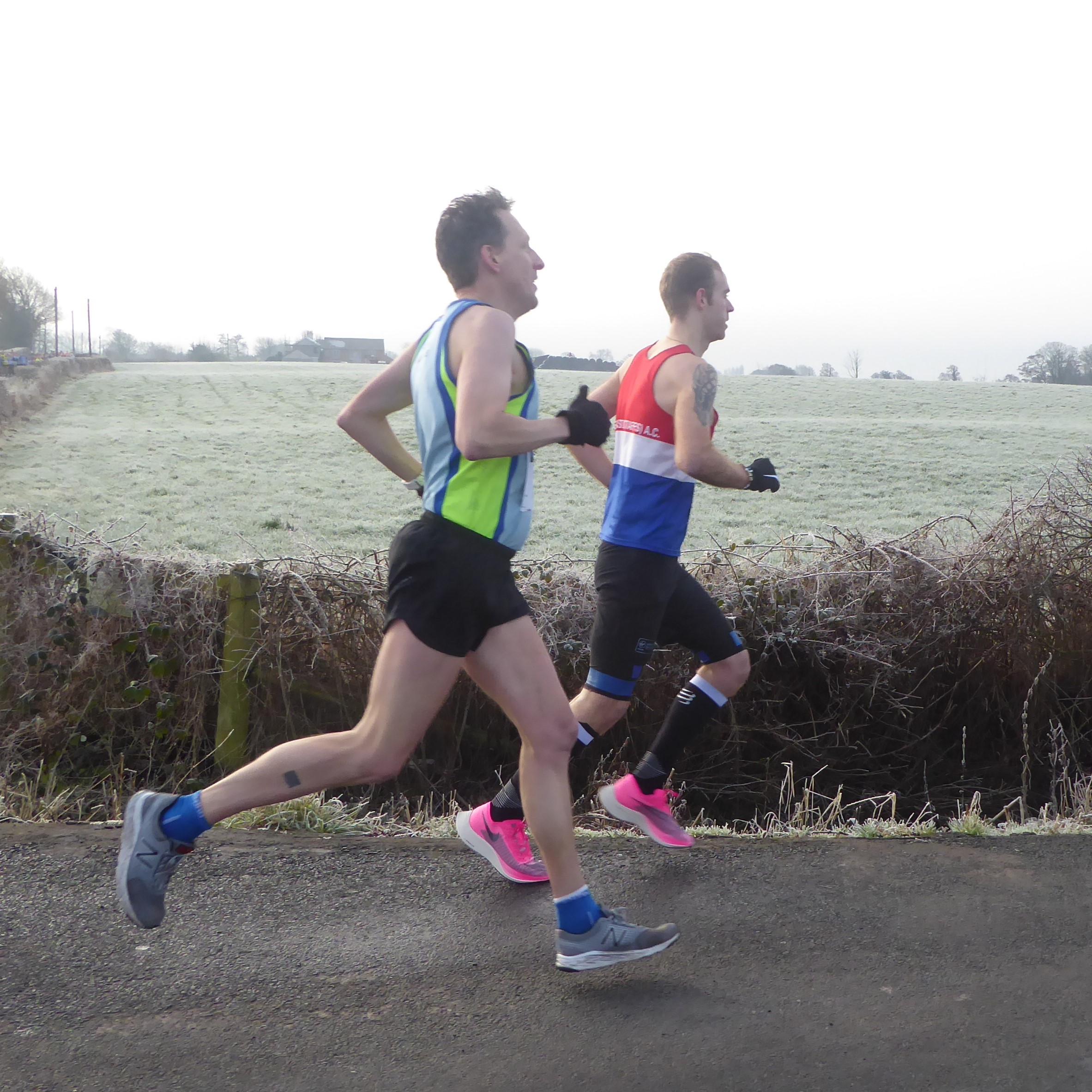 At the Inskip Half Marathon, Halifax Harriers ladies won the team prize for the third year in a row.  As last year, it was April Caufield who led the ladies home in 1:27:15, some 30 seconds faster than last year.  Next lady back was Helen Ward 1:32:38 (PB) and first F35.  Erika Nightingale completed the team in a PB of 1:41:22.
Halifax Harriers had 24 runners at the race which starts and finishes at Blackpool Dog Showground, which is basically a field stuck out in the countryside with the Race Headquarters a tent. 
The race itself was run on pleasant country lanes surrounded by fields which were difficult to see in the fog.  With temperatures close to zero, it was a case of wrap up and get on with the running.  However, the race being almost flat, good times were recorded with a number of PB's.
First to finish for Halifax Harriers was Ryan Barker in 1:22:14, closely followed by Will Stewart 1:24:54 and Andrew Wiggins 1:25:35.  One second behind was James O'Rourke in a PB of 1:25:36.
The club had a further four prize winners.  Fred Carver, under 20 age group, 1:36:33, in his first race over the half marathon distance.  David Ingle was first M55 in 1:28:47.  Husband and wife duo of Raymond and Susan Hall were both winners of the 70 year age group in 1:44:13 and 2:12:26 (club F70 record).
Other runners for the club were Robert Hick 1:35:37 (3rd M60), Jonny Lister 1:36:05 (PB), Will Carver 1:36:34, Marc Rocheteau 1:40:13, Paul Hopkinson 1:43:27, Ian Giles 1:44:06 (PB), Jenny Hopkinson 1:48:38 (3rd F50), Rachel McCauley 1:51:12 (PB), Stefanie Dickinson 1:51:25 (PB), David Parrington 1:57:29, Deborah Kirkbride 2:01:59, Chris Kirkbride 2:06:55, Kirsty Carver 2:15:21.
Yorkshire Cross Country Championships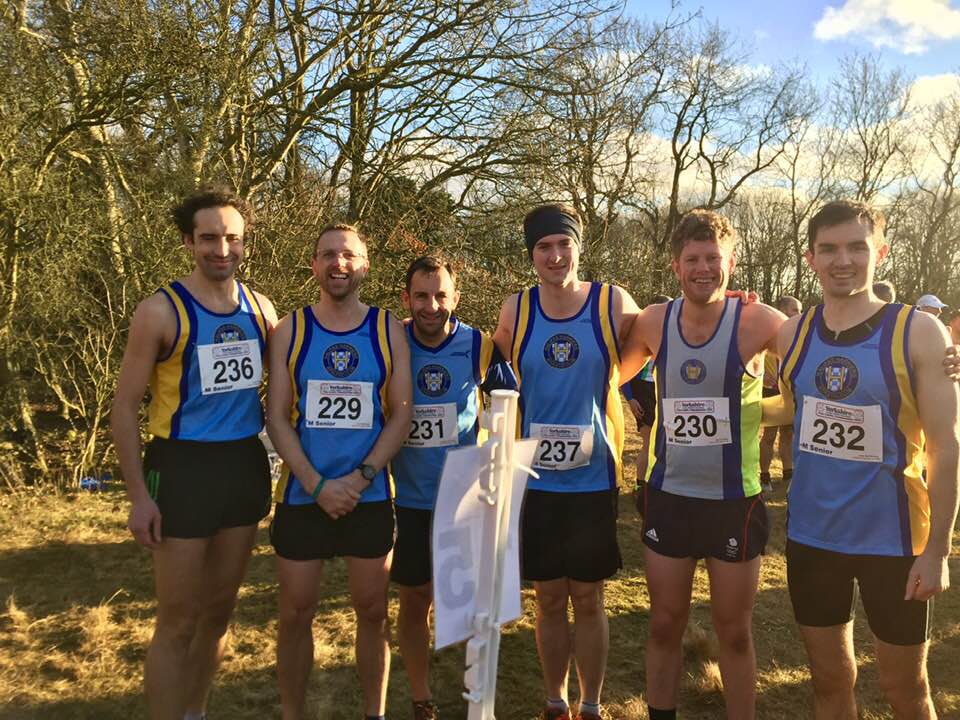 YORKSHIRE CROSS COUNTRY CHAMPIONSHIPS
Once again, the Yorkshire Cross Country Championships were held at Lightwater Valley Theme Park near Ripon.  The course is challenging and undulating over the hills and through the woods.
Halifax Harriers were well represented in the senior events which draws many top regional runners to this prestigious race.
The ladies pair of Katrina Oddy and Rachael Beaumont won Gold and Bronze respectively in the F50 age group.
In the senior men, new recruit Josh Hall-Brown led the men home in 42nd place.  Ben Crowther was 51st, Ryan Barker 125th, Lee Cattermole 195th, Tristan Watson 219th and Stephen Fitz-Costa 251st.
Halifax Harriers younger members also had some excellent results.  In the under 17 girls, Verity Clements was 10th.  The under 13 girls were led home with a great performance by Nia Harrison Sargent in 5th place and well supported by Lillia Mazurke and Amelia Hammond.
The first finisher in the under 13 boys for the club was Will Cattermole supported by Euan Logue and Oliver Norris.  In the under 15 boys, James Howard was 23rd with Ned Hughes some five seconds behind in 24th place. 
In the under 17 boys, Ewan Wheelwright ran superbly to finish in 9th place, just missing an automatic selection for the Yorkshire Team. The under 20 mens race saw Max Burgin finish in 7th place, one minute in front of Harry Johnson 9th.  Hopefully they will both gain Yorkshire County selection and represent the county in future cross country races.
BRIGHOUSE RESOLUTION RACES
At the evening races in Brighouse Halifax Harriers junior runner Foley Marshal was the winner of the 5k race in a time of 21:27. In the multi-lap 10k race Helen Ward was 3rd lady and winner of F35 age group in 42:30. In the same race Angela Clarke was 2nd F45 in 45:07. Paul Bunker ran 48:03.
HIT THE TRAIL 5 MILE RACE
Two Halifax Harriers completed this race with Will Stewart first back in 29th place in a time of 32:20, three places behind in 32nd place was April Caufield 32:39 third lady finisher.
SIR TITUS TROT MARATHON
Peter Clegg celebrated breaking the three-hour barrier for the first time when he finished in 4th place in 2:59:45 on this trail race along the Leeds Liverpool canal. David Parrington finished in 5:13:38