Harriers Return To Majorca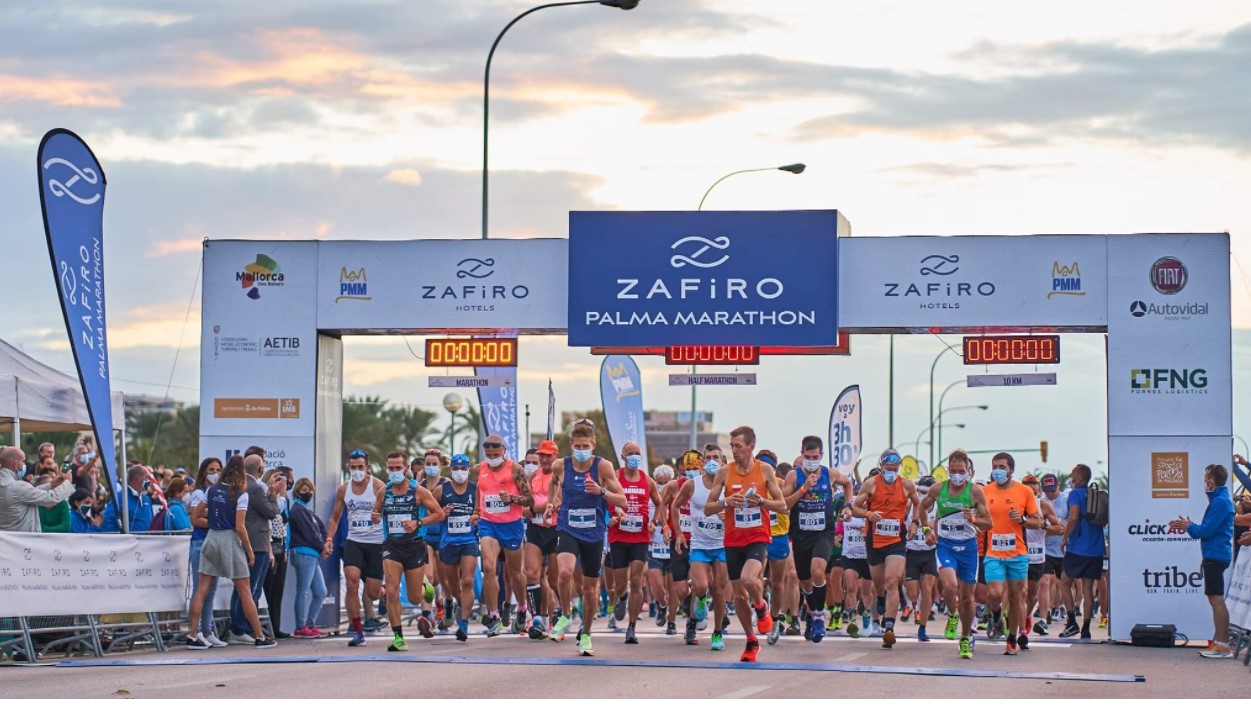 For the sixth year, Halifax Harriers had their annual club trip to Majorca.  Once again, they had warm and sunny weather for the full and half marathons and the 10k.  These are one of the few races undertaken by club members intent on having a good time in the warm weather rather than worrying about setting PB's.  This does not stop runners trying their best, but, with the warm conditions and the nature of the course, times are less important than enjoying the day.
The 10k, full and half marathon follow the same 6 miles from the start in front of the magnificent cathedral.  The route follows the seafront for the first 3 miles, passing the harbour full of expensive boats, before returning back to the start for the 10k runners.  The marathon does two laps and the half marathon one lap of a twisting, undulating route along narrow alleyways in the old town where there are spectators around each corner.
This year Halifax Harriers had their largest team of runners and supporters (27) with runners in all distances from 10k to the marathon.  Ryan Barker completed the marathon, only one week after his sub 3 hours at London, in a time of 3:18. 
In the half marathon, Harry Johnson was first back for the club and 1st junior in 1:25:31.  Other runners in the half marathon were April Caufield 1:34:36 3rd FSen, Will Stewart 1:36:23, Marc Rocheteau 1:53:38, Rachel McCauley 1:56:43, Martin Ellis 2:00:59, Mark Crabtree 2:18:32, Jenny St Romaine 2:18:32.
The 10k saw eleven runners enjoying the coastal run.  Sarah Cumber was third lady in 39:53. Simon Johnson 39:26 was 1st M55, Raymond Hall 48:58 was 1st M75 and Hazel Berrett 50:41 was 1st F55.  Susan Hall was 2nd F70 in 66:38.
Other runners for Halifax Harriers in the 10k were Andrea Ackroyd 57:15, John Moore 59:37, Natasha Empsall 62:01, Craig Empsall 62:02, Christopher Kirkbride 65:57, Martin Haigh 72:14.
MANCHESTER HALF AND FULL MARATHON
Halifax Harriers had six runners at the Manchester Marathon with Phil Smith just missing out on breaking the three hour barrier in a time of 3:01:03.  Next back was Jonny Lister 3:52:17, Sarah Glyde 3:59:11, Sally Shacklock 3:59:51, Nigel Jamieson 4:02:22 and Sharon Castelow 4:03:25.
In the Half Marathon, Joshua Mitchell had a superb run to break the club record by 3 minutes in a time of 1:09:45.  Joshua Hall-Brown ran a PB of 1:14:21.
Ten Halifax Harriers In The Marathon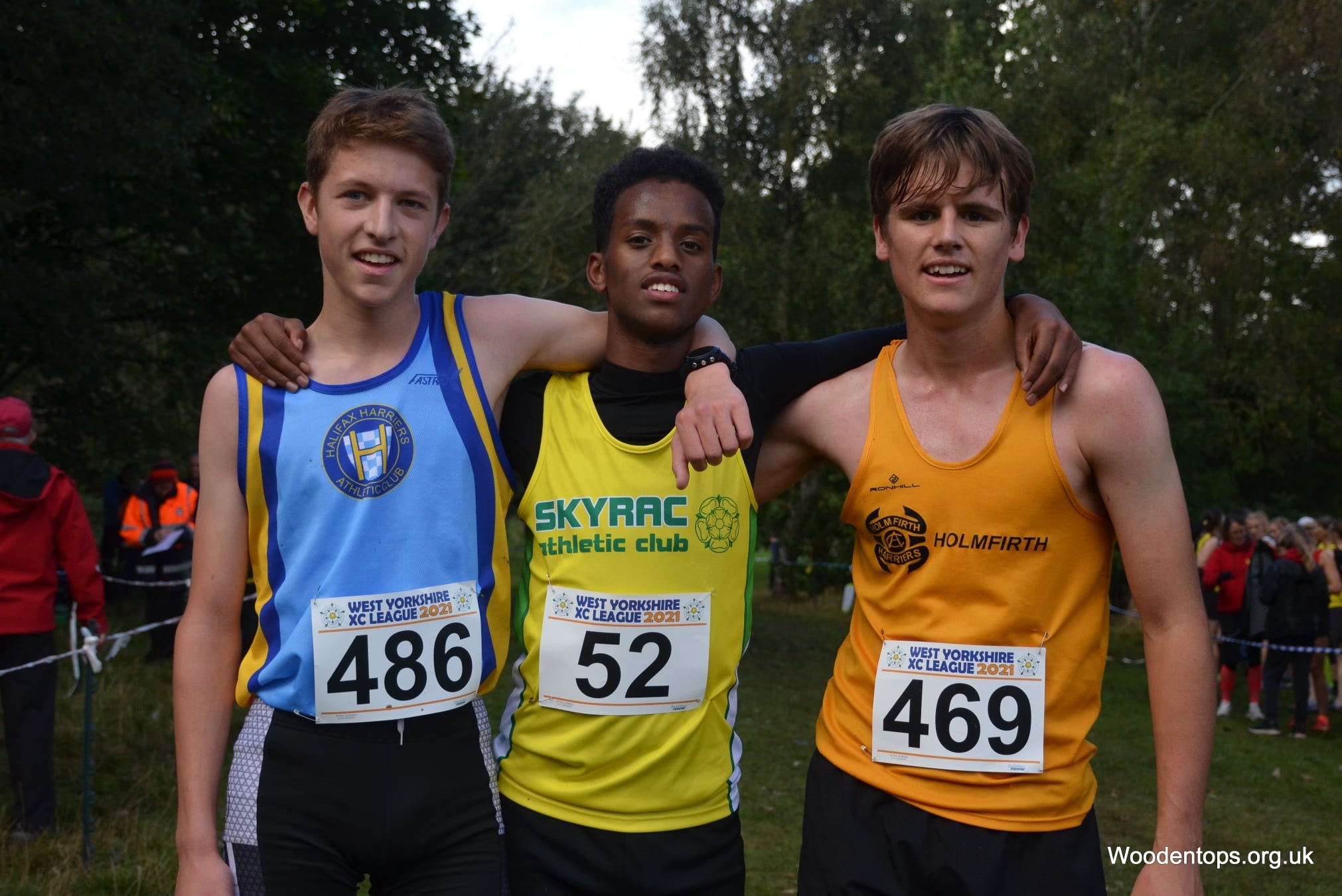 The London Marathon was back again this year with wave starts to spread out the thousands of runners.  The format this year ensured that the course was less congested which eased the stress and frustration when running.  Halifax Harriers had six runners amongst the thousands taking part.  First back was Ryan Barker 2:59:01, followed by James O'Rourke 3:06:26 (PB), Paul Hopkinson 3:39:48, Angela Clarke 3:42:13, Nigel Taylor 4:16:01 and Andrea Ackroyd 4:22:12 (PB).
At the Chester Marathon Halifax Harriers had four runners, first back being Tom Paget 3:50:46, followed by Hazel Berrett 3:53:57 (Club F55 Record), Robert Hick 4:38:37 (PB) and David Parrington 5:28:51.
WEST YORKSHIRE CROSS COUNTRY
The first West Yorkshire Cross Country took place at Cleckheaton last weekend and there were some good results by Halifax Harriers runners.
Five Under 11 boys competed with Albert Jones first back in 14th place, Ewan Edwards 16, Rory Smith 21, Ziggy Jackson 25 and James Hall 28.
In the Under 11 girls, Poppy Jowett had an excellent run to finish 4th with Paige Richardson 19 and Annabelle Aghahowa 33.
The Under 13 boys had Joseph Stone first back in 13th, Ben Slow 14, Beau Clark 17 and Ralf Jones 27.
Kitty Harrison Sargent once again showed her potential finishing 3rd with Faye Skilbeck 11.
The Under 15 boys and girls had William Cattermole 13 and Jayde McGregor 16.
Alex Franklin in the Under 17 men's had a superb run finishing second, with Ned Hughes close behind in 5th place.  In the Under 17 ladies, Molly Firth was 11th.
The Under 20 ladies had Verity Clements 2nd with club mate Anna Bosford 3rd.
In the senior men's, Thomas Hodgson came 9th and Michael Gaughan 14th.  Michael King was 9th M40 and Stephen Fitz-Costa 5th M55.