Halifax Harriers Win Their Own Race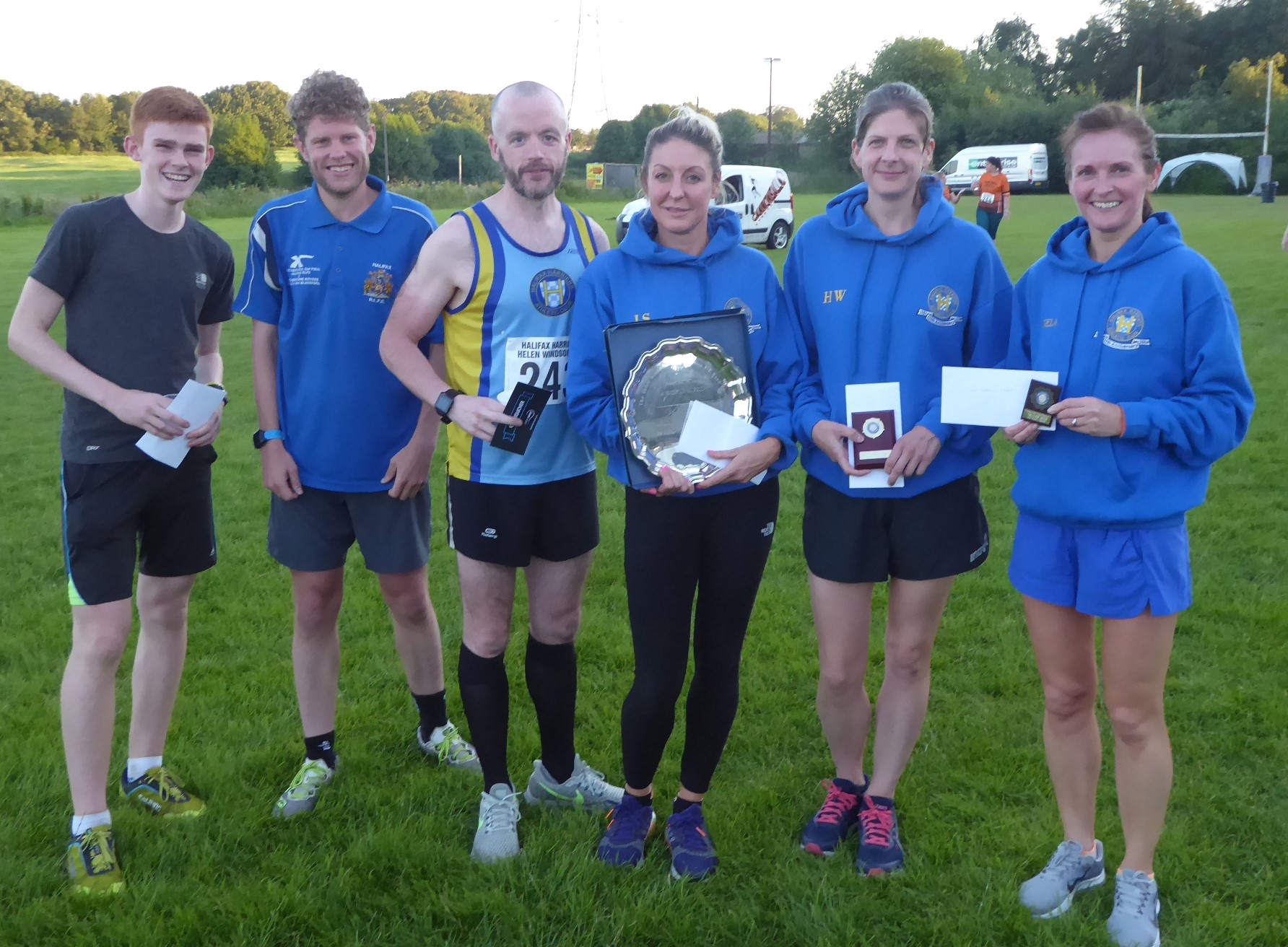 Both Halifax Harriers ladies and men's teams were winners at the Helen Windsor 10k which was run on a lovely summer evening with blue sky and still conditions.
The race, which comprises of a small lap and then a larger lap setting off from Greetland Allrounders Rugby Club, attracted a field of 240 runners from local clubs and unattached competitors.  The race incorporated the Yorkshire Vets 10k Championships with trophies for all age groups from 35 years to 75 years.
The race was promoted by Halifax Harriers AC and both their ladies and men's teams were winners.  The ladies team consisted of Johanna Sutcliffe 40:09 (2nd lady, 1st F40), Helen Ward 42:23 (1st F35) and Angela Clarke 47:21.  Ben Crowther 34:45 (3rd Male) led home the men's team, followed by Harry Johnson 38:17 and Michael King 38:34.
The race was won by Joe Sagar (Spenborough) in a new record time of 33:17. The ladies winner was Fiona Davies (Rotherham), also in a new record time of 38:34.
Other runners for the club were James Johnson 39:38, Niall Smith 41:12, Mark Crabtree 41:21 (2nd M60), James O'Rourke 41:29, David Ingle 42:26 (2nd M55), Marc Rocheteau 44:53, Robert Hick 46:15, Ian Giles 46:34, Sean Morland 47:44, Richard Palethorpe 48:15, Nigel Taylor 48:32, Erika Nightingale 50:08 (3rd F40), David Broadley 50:33, James Goldsmith 50:56, Jane Hobson 53:08, Rachel McCauley 54:17, Geraldine Roby 55:05 (1st F60), Christopher Kirkbride 61:24, Penny Bottomley 62:18, Sue Corney 64:21 (2nd F65), Richard Corney 64:21.