Records Tumble At Myerscough 10 Mile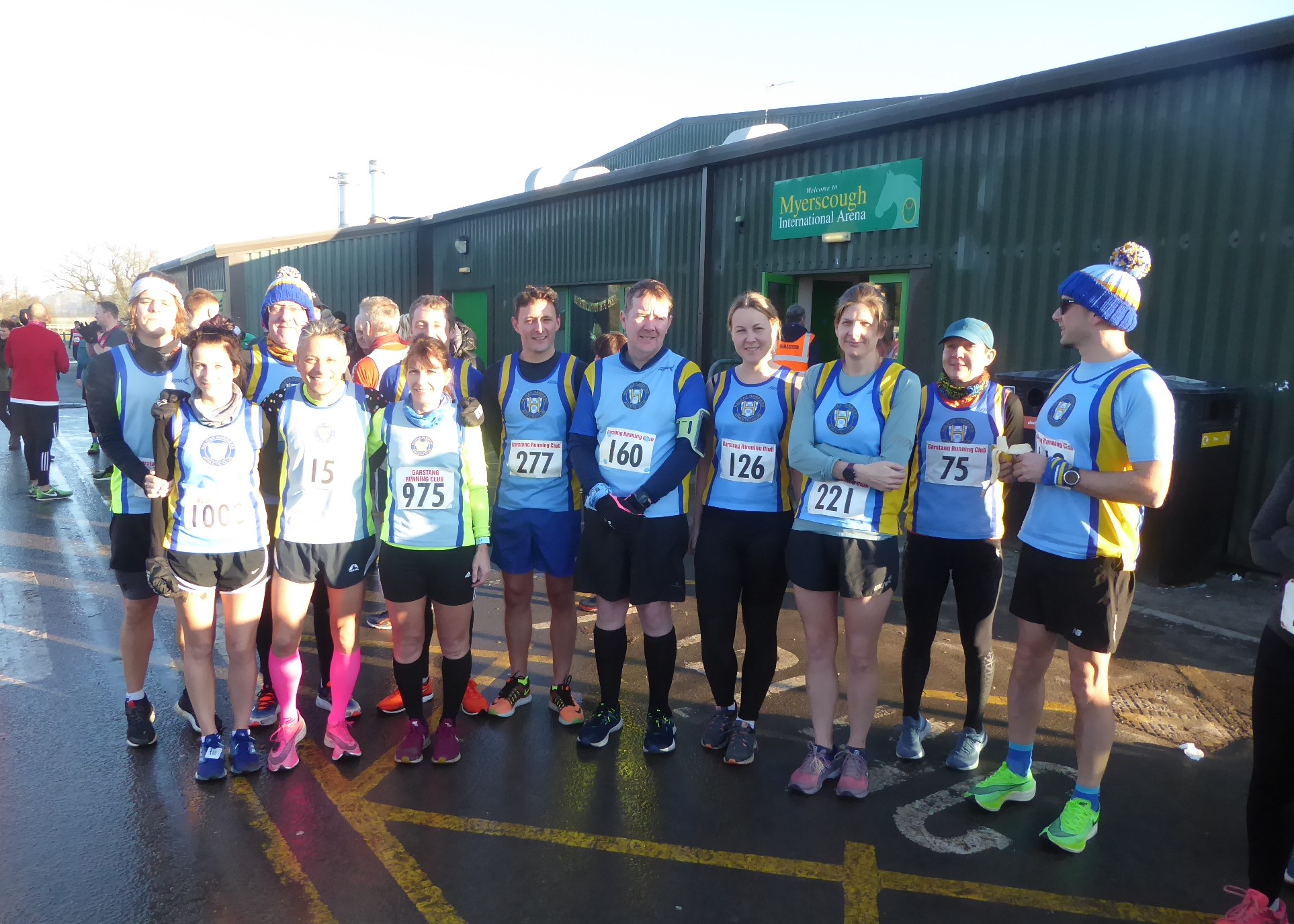 Halifax Harriers saw some great times at the Myerscough 10 mile race organised by Garstang Running Club.  On what was a cold morning with the thermometer below freezing at the start of the race, there were three club records broken and numerous PB's. 
The race starts with a mile loop round the grounds of Myerscough College and then it is out on mainly quiet country roads to Inskip before returning the same way.  In places the roads were still iced over on the shaded sections so runners had to use caution at times to stay upright.
Niall Smith led the 20 runners from Halifax Harriers from start to finish and in his first race over the distance was pleased to break the hour barrier in a time of 59:48.  April Caufield had a good run on her comeback trail to finish as second lady in a time of 1:07:23.
It is only two weeks since Fiona Murphy and Susan Hall set club records for the 10 mile distance and they both reduced their records by a few minutes.  Fiona set a new F60 record with a time of 1:22:55 finishing as 2nd F60, whilst Susan was the F70 winner in a time of 1:39:25.  Rachael Beaumont was first F50 setting a club record in the F50 category with a time of 1:10:49.  Helen Ward was first F35 in a PB of 1:09:08.
Other results for the club - Will Stewart 1:06:43, Sunny Curwen 1:09:09 (PB), Jonny Lister 1:10:20 (PB), Marc Rocheteau 1:11:35, Nigel Rigg 1:16:29, Ian Giles 1:16:37 (PB), Paul Hopkinson 1:17:06, Sean Morland 1:17:11 (PB), Sharon Cousen 1:21:50, Jenny Hopkinson 1:22:12, Rachel McCauley 1:25:59, John Moore 1:26:41`, David Parrington 1:31:04, Christopher Kirkbride 1:33:55.
Sarah Leads Way At Tad 10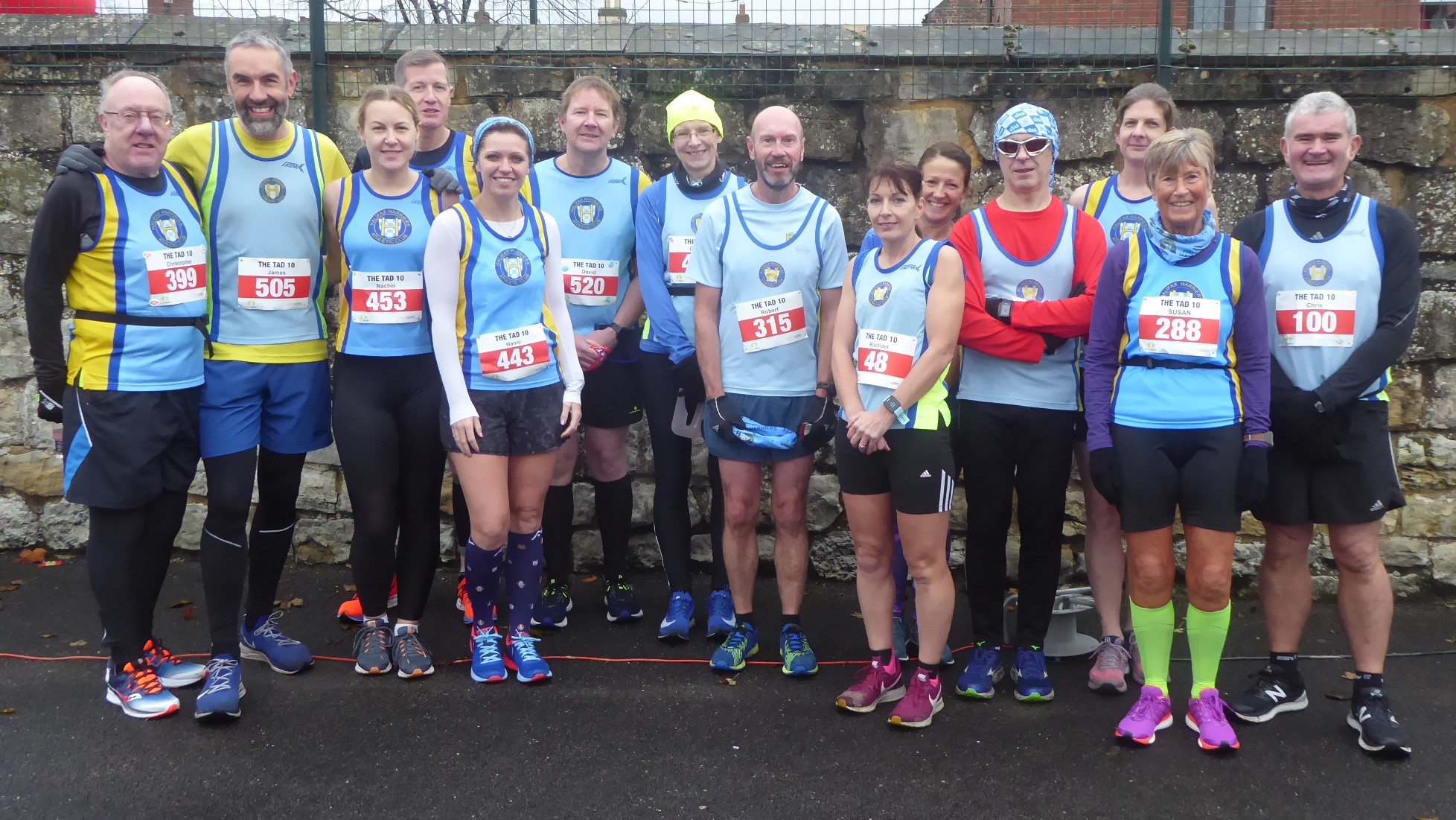 Halifax Harriers Sarah Cumber had an excellent run at the Tadcaster 10 mile race.  She was the first finisher for the club and fourth female finisher in the race in a time of 1:02:44.
The race starts from the race headquarters 'The Barn' in the centre of Tadcaster and comprises a small loop of 1.5 miles before the 600 runners headed out East towards Healaugh and Wighill.  The finish line is alongside the River Wharfe at the end of a long 2 mile flat road back into Tadcaster with a downhill section of 500m into the finish.
The first man back for Halifax Harriers was Andrew Wiggins 1:04:48.  Helen Ward was 3rd F35 in 1:09:49, Rachael Beaumont 2nd F50 in 1:12:29, Fiona Murphy set a new PB of 1:25:38 which was a F60 club record and Susan Hall was 1st F70 in a club record of 1:41:22.
Other runners for the club were James O'Rourke 1:07:42, Marc Rocheteau 1:10:59, Robert Hick 1:12:20, Erika Nightingale 1:17:04, Sharon Cousen 1:22:38, Rachel McCauley 1:25:24 (PB), Hanni Maeer 1:26:28, Deborah Kirkbride 1:28:05 (PB), David Parrington 1:30:46, Christopher Kirkbride 1:32:04, Christopher Burrell 1:32:35, Monica Gallagher 1:40:25 (PB).
Sunny Beats The Wet In Wales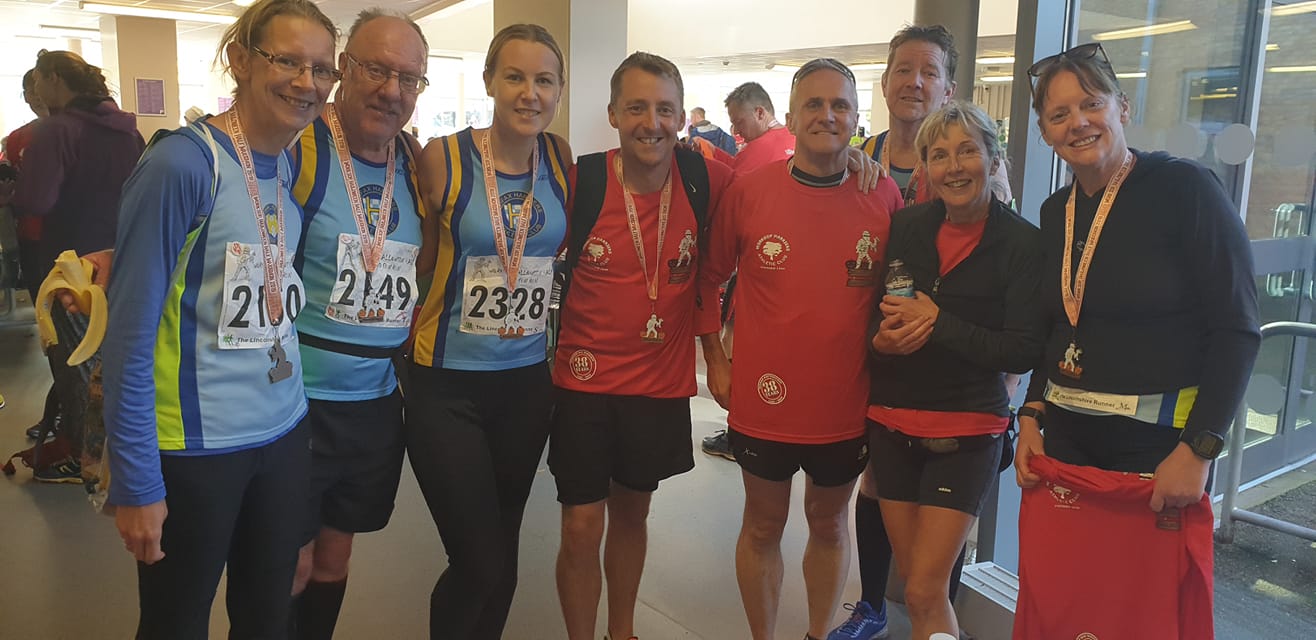 Sunny Curwen was the first finisher for Halifax Harriers on a wet Saturday at the Snowdon Marathon.  After persistent heavy rain on the previous day, it was just light rain that greeted the runners on this challenging course with over 800m of climbing, which included the highest hill at 22 miles, followed by a steep descent on water logged dirt roads.  Sunny finished in a PB of 3:38:13. Jude Cole also set a PB of 4:05:34 whilst Geoff Cumber was the M70 winner in 4:17:23 and Jane Curwen ran 5:57:22.
Come Sunday, the weather was lovely for the runners at the Worksop Half Marathon.  The course is described as undulating through pleasant countryside and attracted 2,400 runners.  Halifax Harriers had the race as part of the club competition which is a mixture of road races from 5k to half marathons.  First back for the club, in 17th position, was Niall Smith who was delighted to get a PB of 1:20:59.  The first lady back for Halifax Harriers was Sharon Cousen 1:47:02.  Ian Giles had very good run and was rewarded with a PB of 1:47:44.  Susan Hall was first F70 in 2:17:58. Other runners for the club were Andrew Wiggins 1:30:01, James O'Rourke 1:33:27, Will Carver 1:34:54, Marc Rocheteau 1:38:33, Paul Hopkinson 1:44:48, Nigel Rigg 1:49:34, Nigel Taylor 1:51:40, Rachel McCauley 1:57:50, Stephanie Dickenson 1:57:57, Fiona Murphy 1:58:39, Deborah Kirkbride 2:02:48, David Parrington 2:04:48, Christopher Kirkbride 2:14:21, Kirsty Carver 2:26:30.
As always, the Leeds Abbey Dash attracted thousands of runners for this fast out and back course.  Halifax Harriers had ten runners at the 10k event.  First to finish for the club was Stephen Fitz-Costa in a PB of 42:22. The next four back were within seconds of each other.  The fastest time of the quartet was from Tim Pegg 43:21 (PB), followed by Emma Vincent 43:49, Harry Brackenridge 44:00 and Angela Clarke 44:14 (PB).  Erika Nightingale ran 48:32 (PB), John Moore 49:32, Monica Gallagher 58:02 and both Teresa Booth and Susan Pegg 1:04:31 (PB's).  In the Junior Dash, Foley Marshall was 15th in 8:59 and Rhys Nightingale 51st in 10:19.
The Bronte Way Fell Race had four runners from Halifax Harriers.  First back was Andrea Ackroyd 1:27:20, followed by Martin Ellis 1:29:36, Jane Hobson 1:32:01 and Jenny St Romaine 1:50:16.