Great Run By Sarah At Great South Run
Halifax Harriers Sarah Cumber had a great run at the Great South 10 mile Run.  Her time of 1:01:56 was a club record for the F45 category and ranked her fourth in the UK.  At the same race, husband Geoff Cumber was first M70 in a time of 1:16:12, whilst Heath Reilly ran 1:25:07.
Nearer to home at the Yorkshire 10 mile race, Halifax Harriers has four runners out on the course.  First back for the club was Matthew Stott 1:12:03 (PB), followed by Sophie Kelly 1:18:53 (PB), Paul Greenslade 1:23:15 and John Moore 1:26:15.
Halifax Harriers had four runners at the Yorkshire Marathon.  The first finisher for the club was Will Carver 3:17:57 (PB), whilst Angela Clarke had an excellent run to set a PB of 3:35:35.  Paul Hopkinson ran 3:44:21 and Kirsty Carver 5:51:23.
At the Green Drive Five in Lytham St Annes, Susan Hall was second F70 in a club record of 48:00.
Halifax Harriers Return To Majorca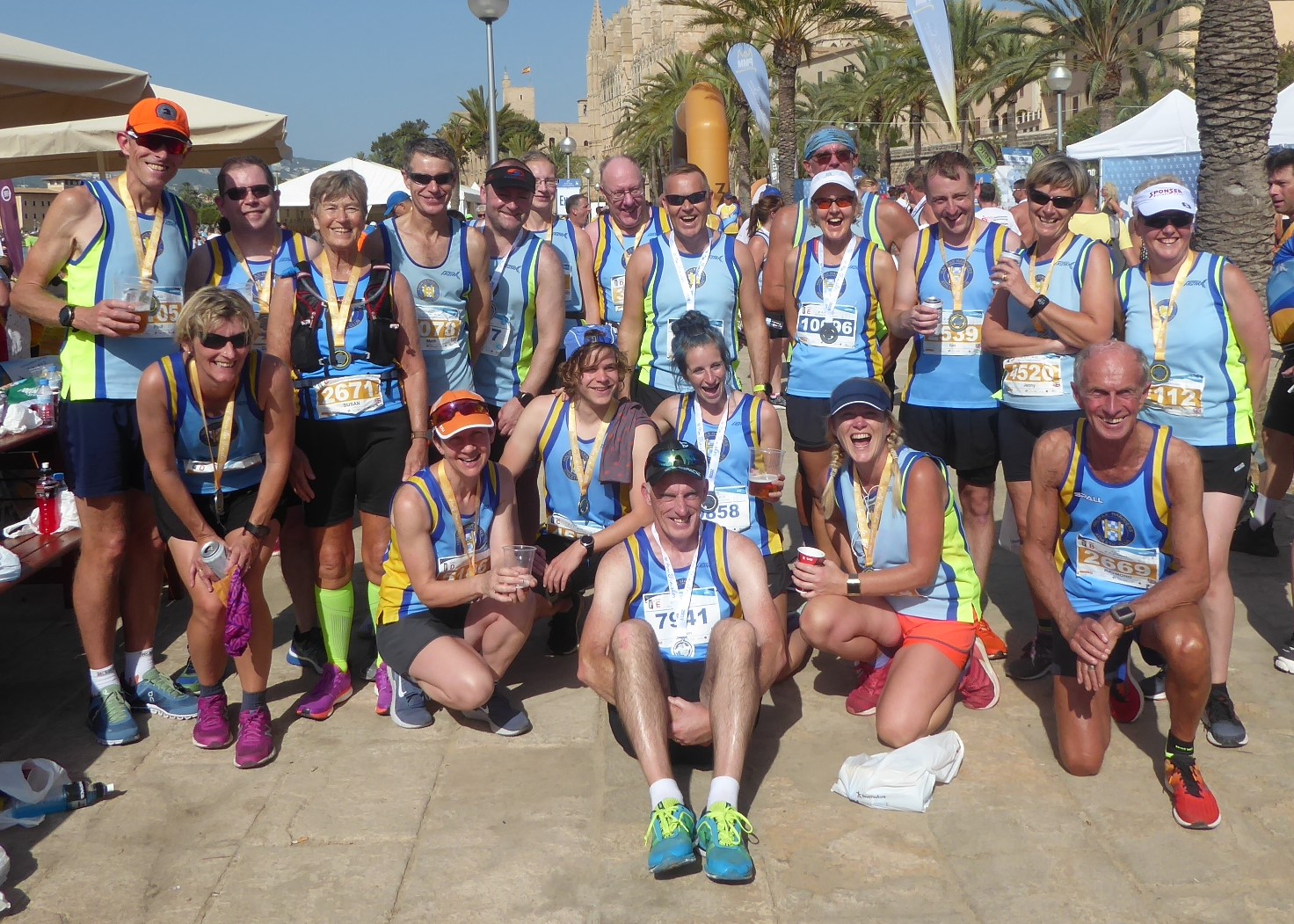 For the fifth consecutive year, Halifax Harriers had their annual club trip to Majorca.  Once again, they had warm and sunny weather for the half marathon and 10k runs.  These are one of the few races undertaken by club members intent on having a good time in the warm weather rather than worrying about setting PB's.  This does not stop runners trying their best, but, with the warm conditions and the nature of the course, times are less important than enjoying the day.
The 10k and half marathon both follow the same 6 miles from the start in front of the magnificent cathedral.  The route follows the seafront for the first 3 miles, passing the harbour full of expensive boats, before returning back to the start for the 10k runners.  The half marathon then follows a twisting, undulating route along narrow alleyways in the old town where there are spectators around each corner.
In the half marathon, which attracted 3,500 runners, Halifax Harriers were led home by Will Stewart for the second year in 1:38:34.  The first lady finisher for Halifax Harriers was Jennifer Hopkinson in 1:54:03 and Susan Hall was first F70 in a time of 2:30:05.
Other runners for the club in the half marathon were Paul Hopkinson 1:56:33, Ian Giles 1:59:09, Deborah Kirkbride 2:10:54, Daniel Ryan 2:13:40, Andrea Ackroyd 2:14:38, Mark Crabtree 2:14:38, Christopher Kirkbride 2:18:07, Jane Dacre 2:20:02, Jenny St Romaine 2:22:22, Jude Baines 2:44:02.
In the 10k, Halifax Harriers had 6 runners.  Once again, first back was Simon Johnson 41:53 and the first lady for the club was April Caufield 44:35 in a field of 2,700 runners.  Other runners for the club in the 10k were Craig Empsall 47:37, Wayne Stevens 50:52, Hazel Berrett 55:07, John Moore 56:34.
Johanna Comes Second At Chester Marathon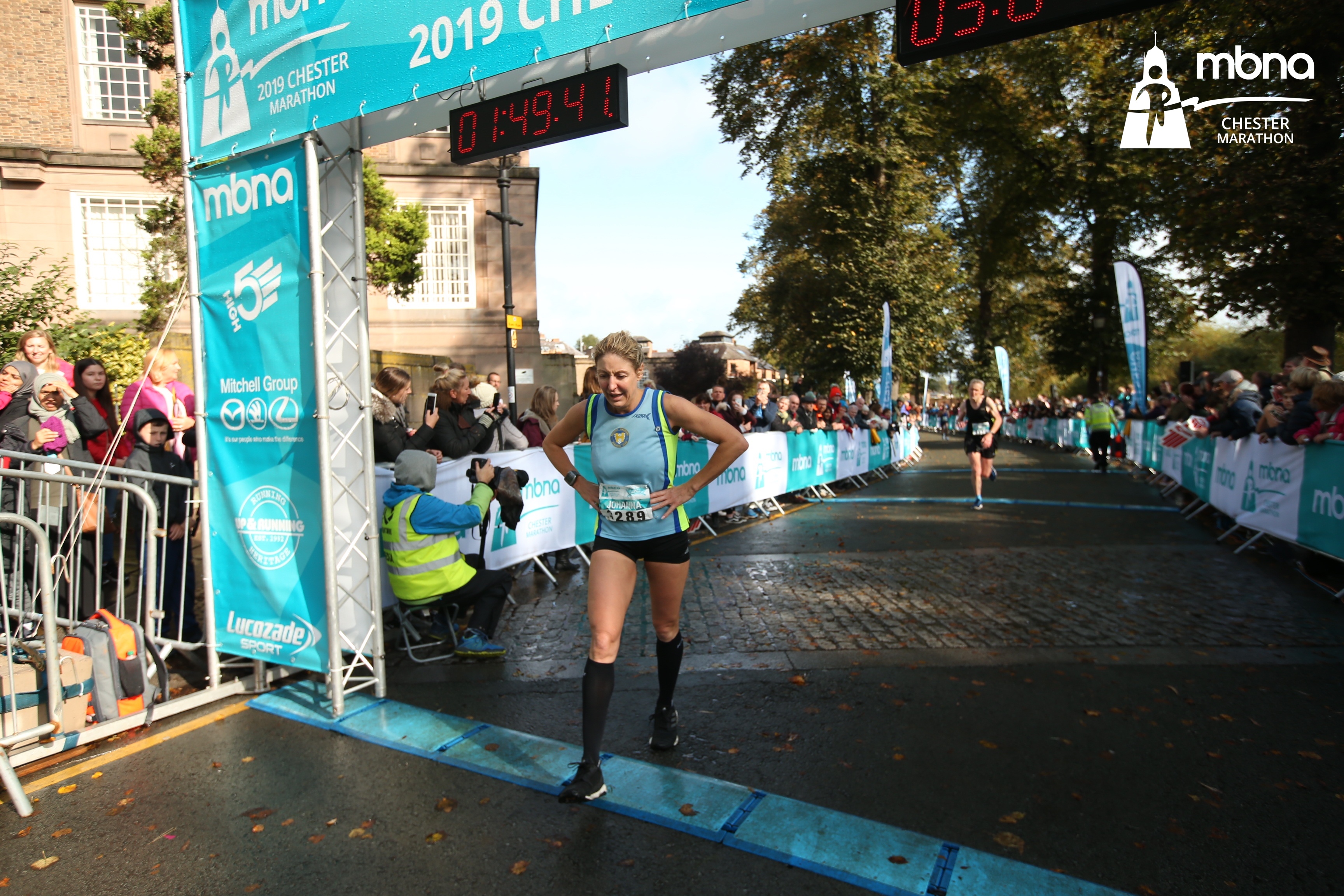 Halifax Harriers Johanna Sutcliffe had an excellent run at the Chester Marathon where she was second lady in a PB of 3:04:38. Also running for the club was David Parrington 4:25:34.
At the Shrewsbury Half Marathon, Fiona Murphy just failed to break the two hour barrier with a time of 2:00:10 for third F60, which was a club record.
Halifax Harriers had two runners at the new Hopton Trail 10k.  April Caufield was first lady in 47:39, with Will Stewart just in front of April in a time of 46:39.