Glorious Weather For Leeds Half Marathon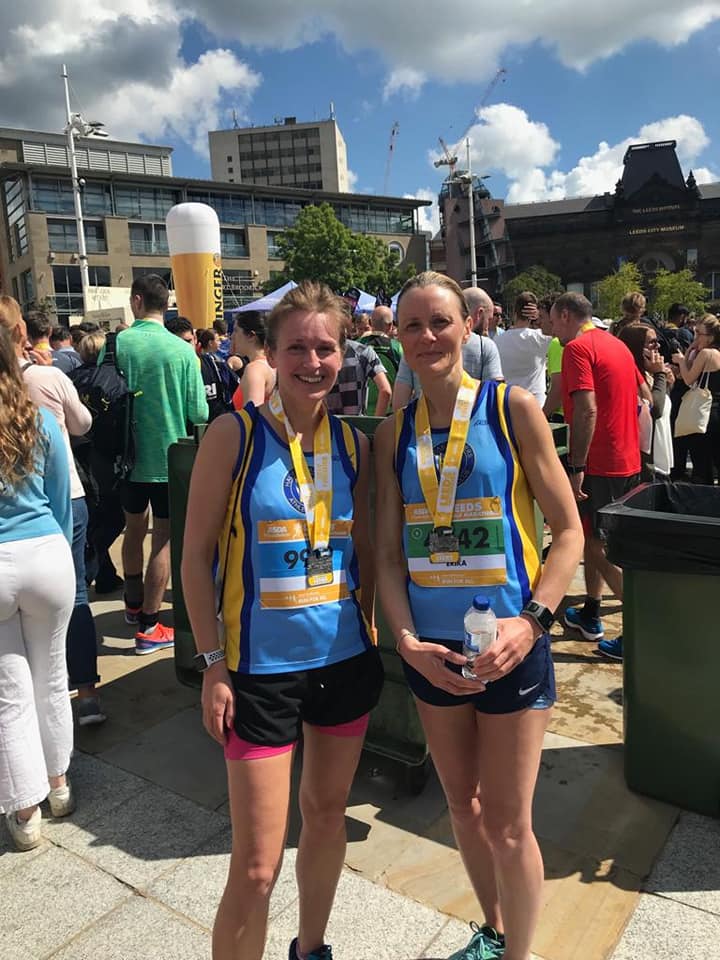 Thousands of runners enjoyed the route in good running conditions, there are a few inclines but nothing too severe.  There was an outstanding performance by Halifax Harriers Johanna Sutcliffe to finish as fourth lady and first F40 in a PB of 1:26:06.  There was a close finish between Sophie Kelly and Angela Clarke in 1:42:04 and 1:42:18 respectively.
Other runners were Erika Nightingale 1:44:36, Jaswinder Sandhu, 1:53:00, Ian Giles 1:55:26, Hanni Maeer 1:56:44, John Moore 1:59:40.
Half Set Pb's At North Lincs Half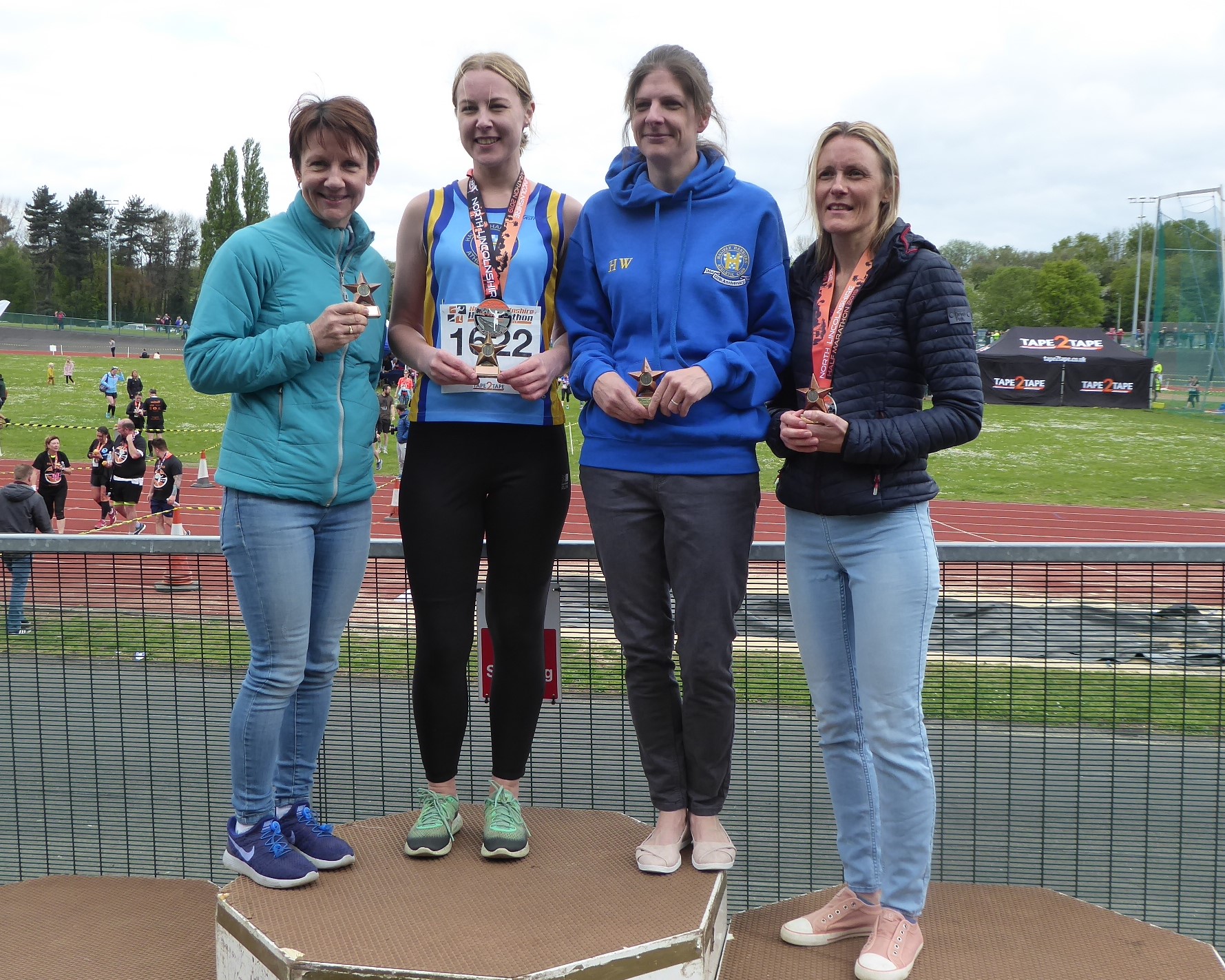 Halifax Harriers had a very successful day at the North Lincs Half Marathon with almost half of the team setting PB's on the day.  The race was part of the Club's Race Challenge.  With cool conditions and little wind, some excellent times were achieved on this flat course which starts a short walk from race headquarters at Quibell Park Stadium, Scunthorpe.  The race is run on closed road and passes through quiet countryside and along the side of the River Trent.
The ladies team of Helen Ward, Jenny Hopkinson, Erika Nightingale and Rachel McCauley took the second team prize.
Last year there were few PB's as the race was run under record high temperatures, but this year with excellent conditions PB's were set by Will Stewart 1:24:45, James O'Rourke 1:26:24, Will Carver 1:29:22, Helen Ward 1:35:04, Robert Hick 1:37:02, Jonny Lister 1:38:52, Rachel McCauley 1:51:48, Deborah Kirkbride 1:56:24 and Kirsty Carver 2:06:20.
Mark Crabtree was third M60 in 1:29:38 and Raymond Hall was second M70 in 1:39:46.
Other runners were Ryan Barker 1:26:54, Marc Rocheteau 1:37:46, Paul Hopkinson 1:43:53, Jenny Hopkinson 1:44:02, Erika Nightingale 1:44:04, David Parrington 1:53:42, John Moore 1:59:07, Jenny St Romaine 2:08:58, Susan Hall 2:11:21 and Martin Haigh 2:11:33.
London And Blackpool Marathons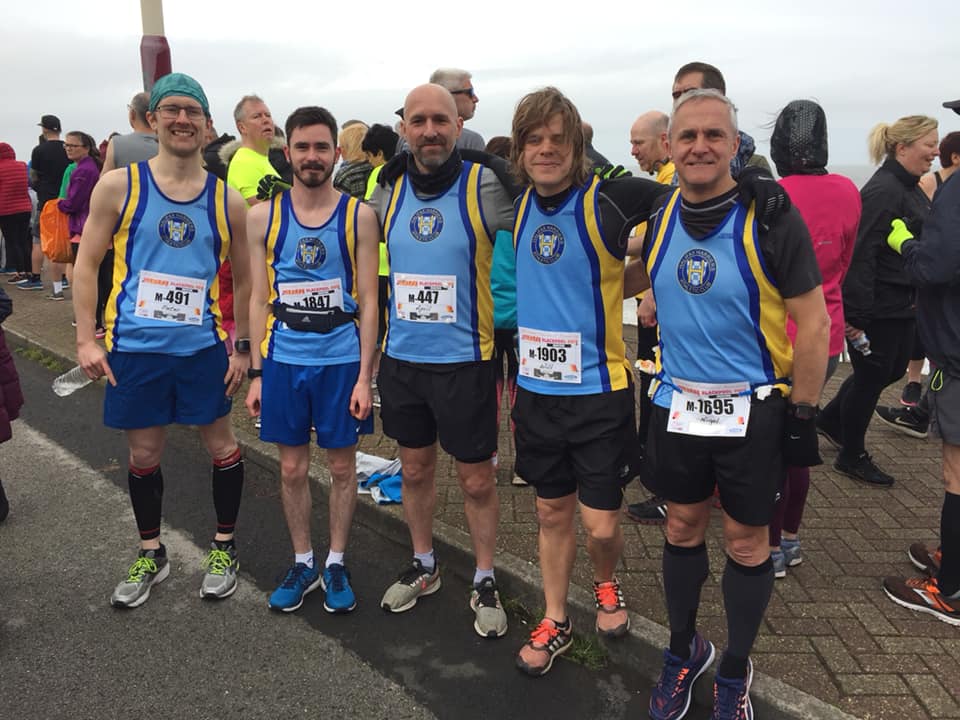 The London Marathon is the one that runners always want to run at least once in their life.  Undoubtedly it is a great spectacle and an amazing experience, but with some runners having to wait an extra hour before they can start, it can be a challenge to run quick times. 
This year Halifax Harriers had five runners at the race.  First back was Angela Clarke in a PB of 3:41:51. Also setting PB's were Martin Ellis 4:28:53 and Samantha Layfield 4:35:26.  David Parrington finished in 4:34:03 and John Moore 4:54:58.
Much nearer home was the Blackpool Marathon, a two lap course on the seafront.  With a much smaller field the runners were well spread out and there could be no excuses for lack of space to run at their own target pace.
As in London, Halifax Harriers had five runners at the race.  Peter Clegg 3:20:48 was first back for the club, closely followed by Will Stewart 3:21:30.  Nigel Rigg had a solid run to finish in 3:42:50, whilst Niall Smith 3:50:24 and Nigel Taylor 3:58:01 both set PB's.
THREE PEAKS FELL RACE
Saturday saw some miserable weather for the Three Peaks Fell Race.  Halifax Harriers trio of runners all finished within a short time of each other.  Ryan Barker was first back in 4:03:48 followed by Steven Sladdin in 4:06:33.  Vet 60 Phil Grimes finished in 4:14:29.