Salford Success For Halifax Harriers Ladies
The Salford 10k this year was run in warm sunny conditions which the announcer described as the best conditions ever.  Many runners found the temperature too high for their liking with many drop-outs after the first of two laps.  The race from Salford Sports Village is on a relatively flat course with a mixture of paths and roads.
The standard in this race is always very high with 8 men running under 32 minutes and 16 ladies under 40 minutes.
Halifax Harriers ladies were the female vets team winners comprising of Johanna Sutcliffe 38:44 (first F40), Helen Ward 42:37 (third F35) and Katrina Oddy 43:06 (third F50).
Halifax Harriers men were led home by Ben Crowther 34:34 followed by Harry Johnson 37:56 (third MJ) and Michael King 40:08.
Geoff Cumber had a solid run to take the M70 first prize in 44:36, whilst club mate Raymond Hall was second in the M70 age group in 46:58.  Mark Crabtree is coming back to form and was second M60 in 41:05.  Hazel Berrett was third F55 in 48:33.
Other runners for the club were Will Carver 41:51, Jonny Lister 45:39, Keith Lemon 45:45, John Moore 50:24, Stefanie Dickenson 51:29, David Parrington 53:32, Susan Hall 60:59, Monica Gallagher 61:28, Kirsty Carver 63:44.
ACKWORTH HALF MARATHON
At the Ackworth Half Marathon on Bank Holiday Monday, Johanna Sutcliffe certainly shone in the hot conditions as she had an excellent run on this mildly undulating course when she finished as first lady in 1:27:01 just outside her personal best for the distance. Nigel Taylor finished in 1:53:39
Joe Tames The Hills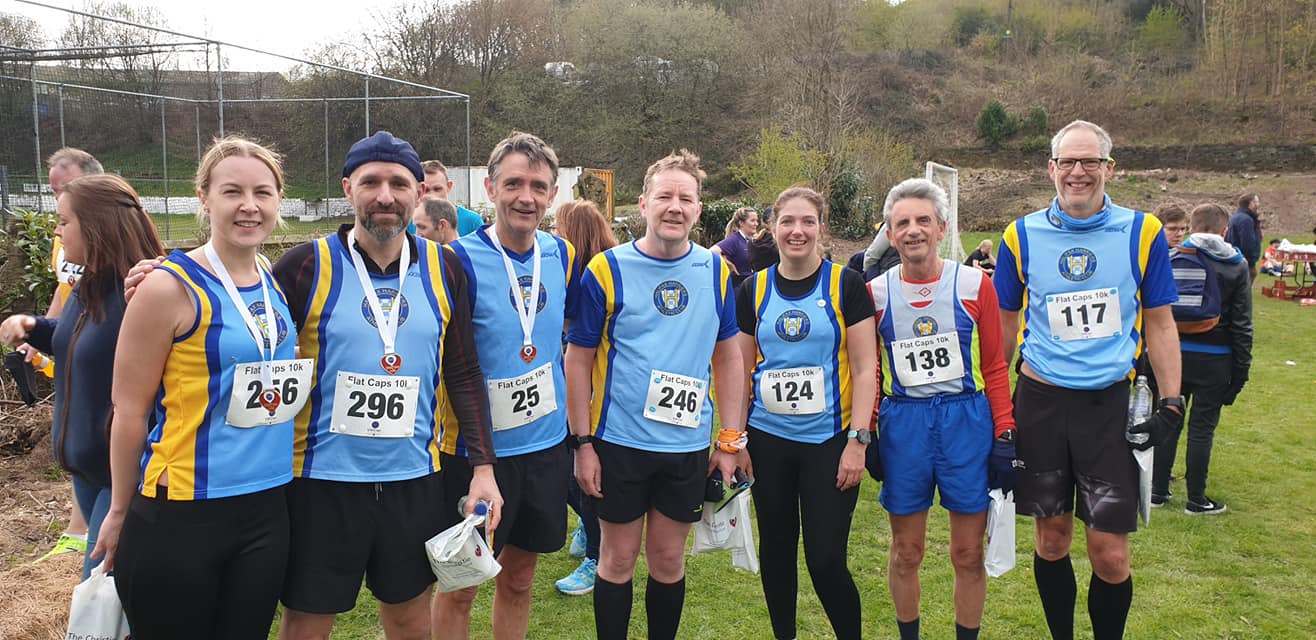 The Flat Caps 10k saw Halifax Harriers Joe Crossfield triumph on this hilly course.  Some runners described the route like a fell race on the roads.  The route was certainly not one for PB's.  Joe Crossfield finished in a respectable time of 39:03 and first runner back.
Halifax Harriers had 11 runners at the race in total.  Simon Lea and Tim Pegg both finished in 48:31, some way below their normal times for a 10k.
The first lady back for Halifax Harriers was Sally Shacklock in 57:23, just edging out Rachel McCauley 57:48.
Other runners for the club were Will Carver 50:10, Nigel Taylor 53:27, Martin Ellis 57:02, Dennis O'Keefe 59:27, David Parrington 1:02:05, Susan Pegg 1:16:18.
Great Times At Manchester Marathon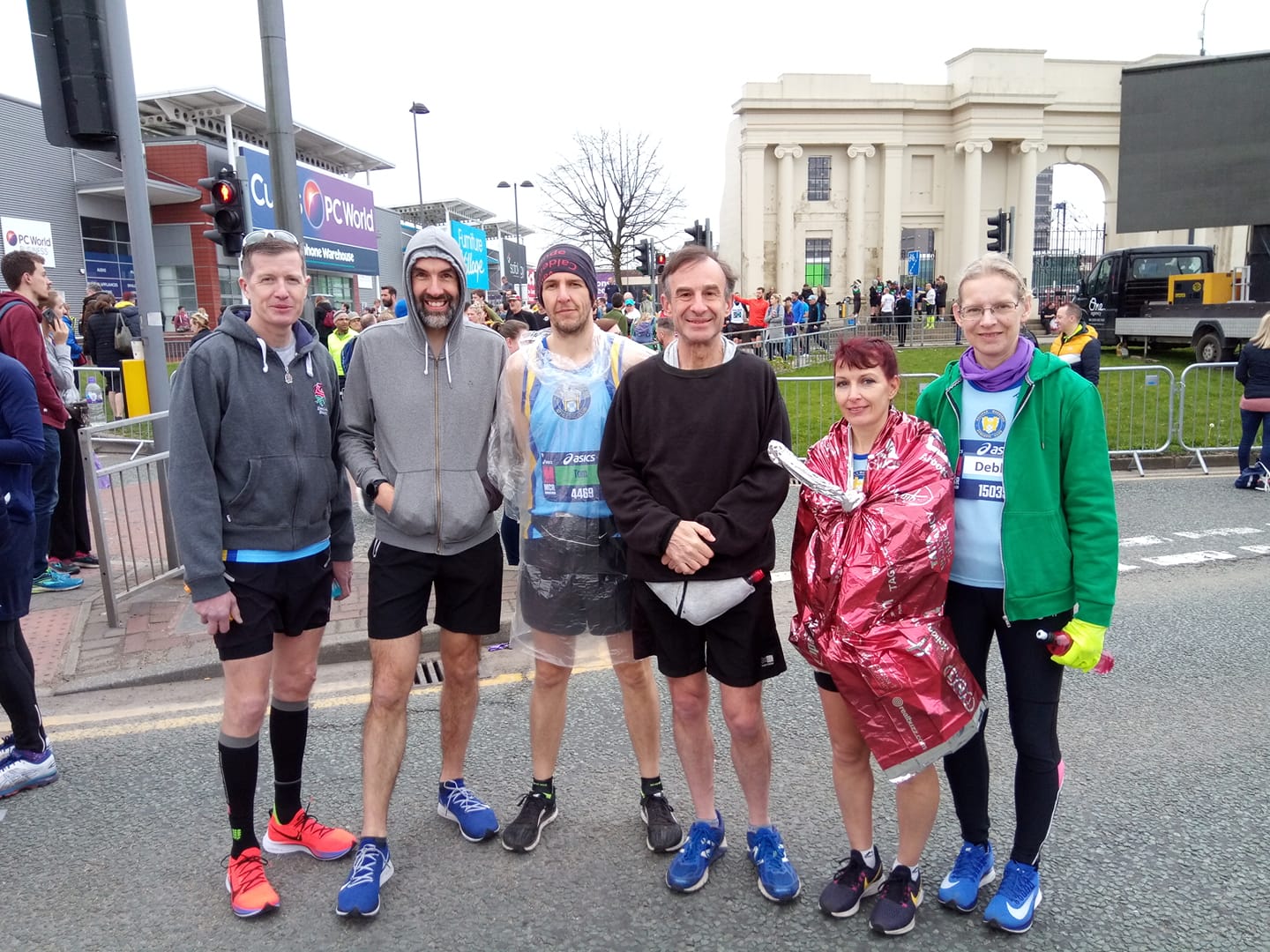 Halifax Harriers runners made a great start to the Spring marathon season with five PB's recorded at the Manchester Marathon.  This marathon continues to grow in size each year due to its flat and fast course.  First back for Halifax Harriers was Andrew Wiggins in 3:03:46.  The next five runners all set PB's- James O'Rourke 3:06:39, David Ingle 3:23:40, Tom Paget 3:28:21, Rachael Beaumont 3:29:25 and Deborah Kirkbride 4:13:14.
At the Wuthering Heights Wander Marathon Halifax Harriers Will Carver came an excellent third in 3:52:55.  Sarah Sladdin finished in 5:07:19.  Steve Sladdin took on the shorter 20 mile race finishing first in 2:41:52.
The Joe Salt Memorial Cowm Reservoir 5k had seven Halifax Harriers competing.  Will Smith finished second in 16:49, just in front of fast improving Harry Johnson 16:51, whilst his brother James Johnson set a PB of 18:03.  Other runners for the club were Charlie Spencer 17:27, Liam Spencer 19:02, Mark Knowles 20:21 and Laura Knowles 20:30.
The Overgate 10k as usual had good support from local clubs.  Halifax Harriers Johanna Sutcliffe was an excellent first lady back in 40:19 whilst Ben Crowther ran 35:25 for second place in the mens race.  Other runners for the club were Will Stewart 42:03, Mark Crabtree 43:42, Robert Hick 46:24, Marc Rocheteau 47:02, Ian Giles 50:27, Rachel McCauley 55:14, Jane Stewart 58:15.
Two members of the club ran in the Overgate 5k.  Nichola Hinchliffe ran 30:02 and junior Katie Brook 30:32.