Vale Of York Half Marathon And Other Races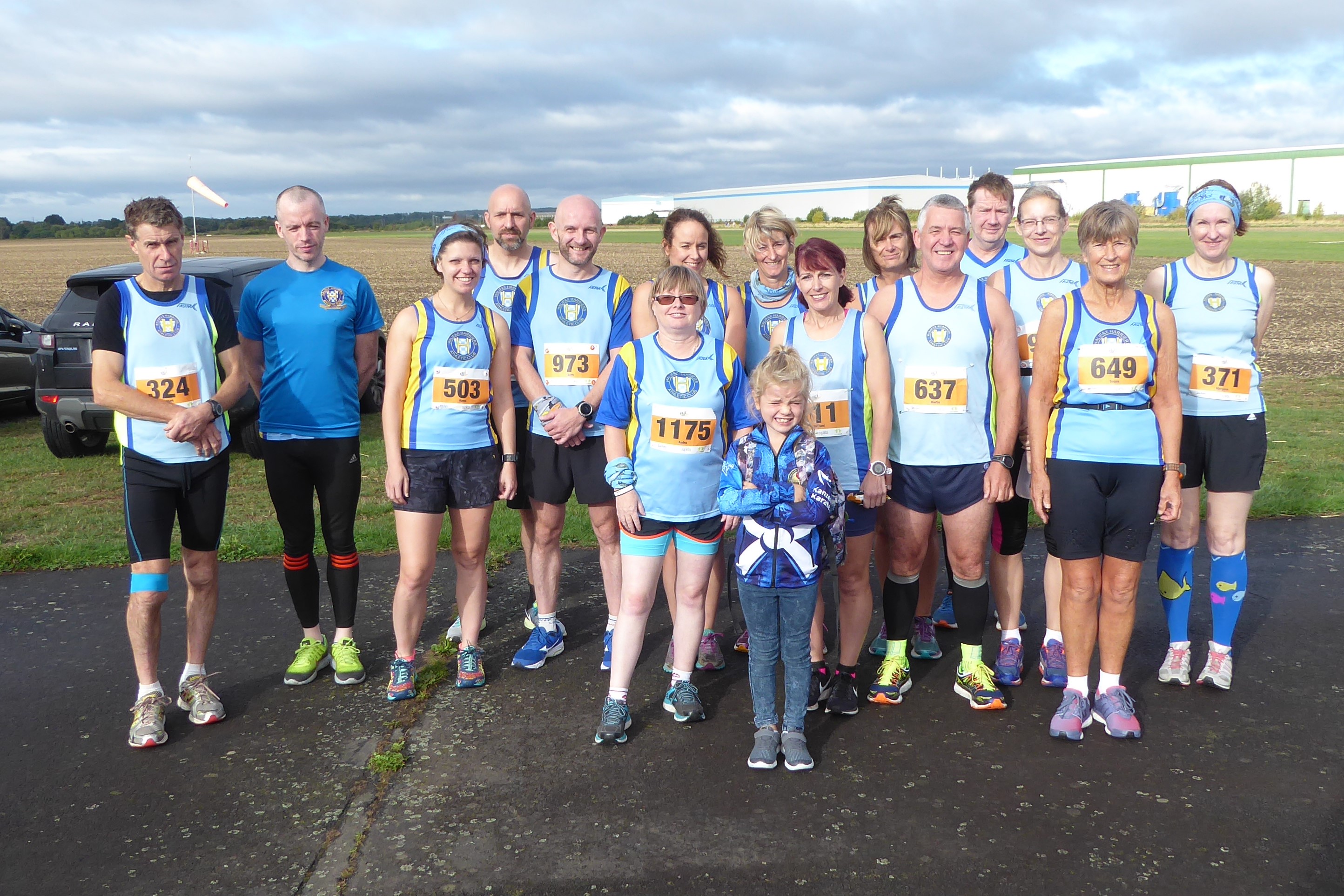 VALE OF YORK HALF MARATHON
Twenty members of Halifax Harriers returned once more to Sherburn in Elmet for the Vale of York half marathon.  This race has grown in size over the last five years and attracted some 2000 runners to this flat race on closed roads.  The race has only about 50m of elevation spread over the course and so is a potentially PB course.  The weather conditions on the day were ideal for the first eleven miles or so, then, when the runners were starting to tire, they were met by a stiff head wind into the finish.
Halifax Harriers, however, did have eight runners who set PB's on the day.  They were James O'Rourke 1:29:03, Keith Lemon 1:40:38, Nigel Taylor 1:44:53, Sophie Baxter 1:46:24, David Parrington 1:52:57, Stefanie Dickinson 1:58:21, Deborah Kirkbride 1:58:27, Audra Naylor 2:17:08.
Other runners for the club were:- Michael King 1:25:16, David Ingle 1:29:31, Mark Crabtree 1:32:05 (3rd M60), Rachael Beaumont 1:38:43, Simon Lea 1:40:30, Margaret Deacon 1:52:04, Hanni Maeer 1:52:30, John Moore 1:57:32, Andrea Ackroyd 2:01:11, Susan Hall 2:15:48, Jenny St Romaine 2:17:10, Martin Haigh 2:21:21.
THE GREAT NORTH RUN
Five members of Halifax Harriers travelled to Newcastle for the ever popular Great North Run half marathon.  This is a race in which the majority of runners are out to raise funds for their favourite charity or just to experience running with thousands of other people.  Fast times are not easy to achieve due to crowds and time taken to cross the start line.
Halifax Harriers runners were:- Marc Rocheteau 1:44:47, Jazz Sandhu 1:49:42, Samantha Layfield 1:59:43, Paul Bunker 2:00:14, David Cooper 2:06:14.
SUCCESS FOR APRIL AND WILL AT THE YORKSHIREMAN
Halifax Harriers April Caufield and Will Stewart were winners of the mixed pairs at the Yorkshire Pairs full marathon, with a winning time of 4:27:44. 
Also running the full marathon was Will Carver (28th) 4:16:15.
Four Halifax Harriers competed in the half marathon with Steve Sladdin finishing first for the club in 2:02:00.  He was followed by Hazel Berrett 2:30:54, Sarah Sladdin 2:43:42 and Sam Wright 2:51:13.
Will Wins In Record Time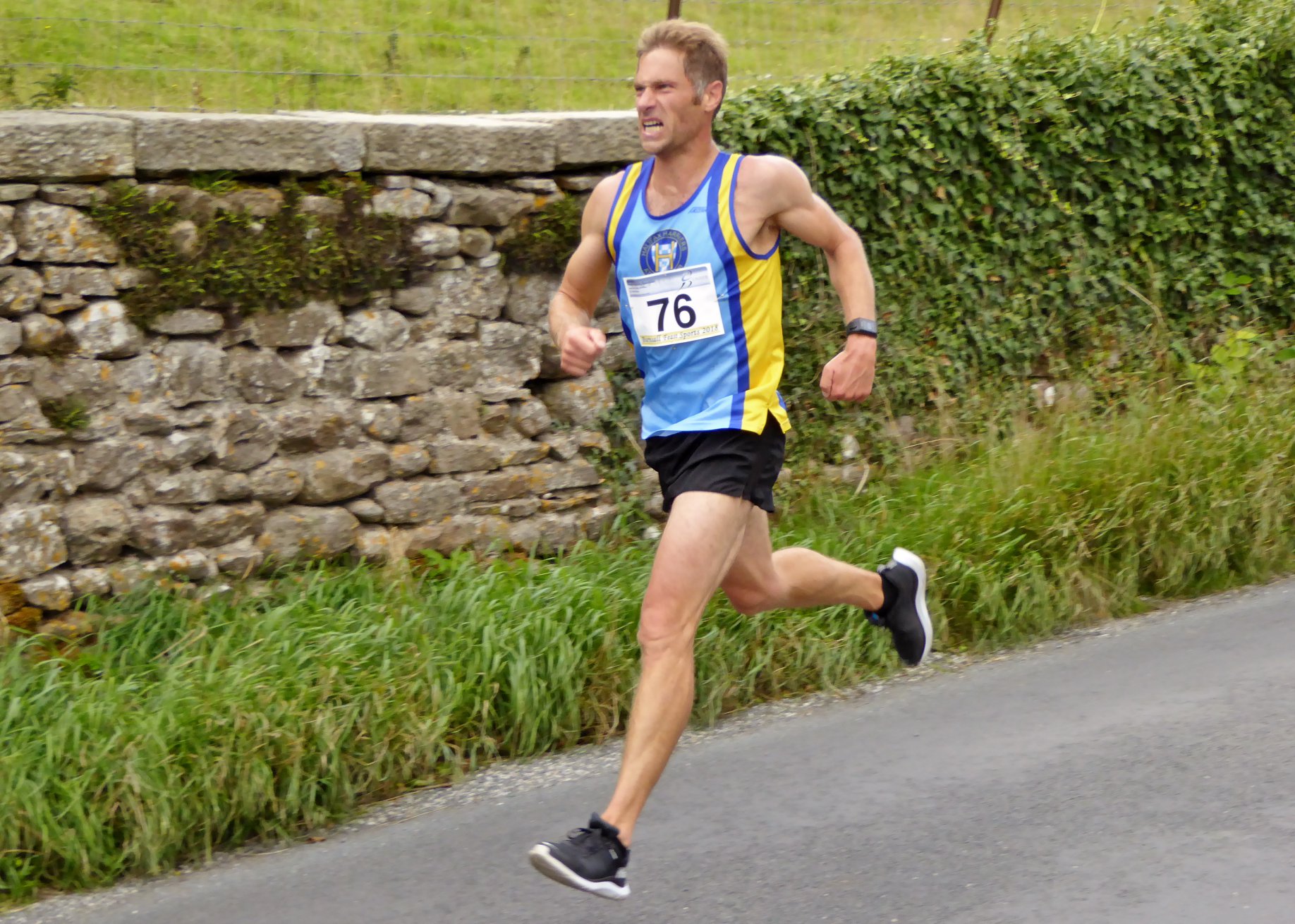 The 10 mile race at Burnsall was won by Halifax Harriers member Will Smith in 54:49 which broke the club record for a M40 by four minutes.  Smith had come second in the race on a number of occasions, but this was his first outright win.
Halifax Harriers Sarah Cumber was the 1st lady yet again at her favourite race in a time of 64:31.
The race is part of the Burnsall Feast Sports held on August Bank Holiday Saturday.  The race starts from the village green in Burnsall with the first of the climbs after about half a mile.  The race then undulates on its way to Grassington, Threshfield and Linton finishing with a long downhill stretch back into Burnsall.  Mark Crabtree was the M60 winner in 70:48 and Sharon Cousen finished in 1:26:54.
Three members of Halifax Harriers ran in the Burnsall Junior fell races.  In the under 10 years, Sam Keighley ran well to finish in 4th place in 4:49.  The Johnson brothers competed in the combined under 16-18 years race.  Harry Johnson was 1st in the under 18 years in 7:40, whilst James was 6th in the under 16 years in 8:44.
Simon Johnson took on the famous 'Classic fell race', a short, but steep, race up to the top of the fell overlooking the village with a tricky descent through rocks, bracken and over walls back to the village green.  Johnson finished in 28th place in 19:35.  Sharon Cousen ran on tired legs after running the 10 mile race earlier in the afternoon and finished in 37:31.
Tour Of Norland Moor Trail Race 26 August 2018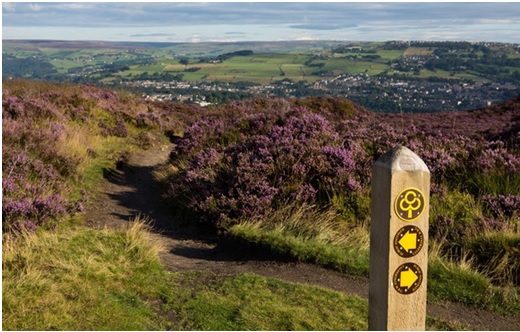 63 runners braved the wind, rain and quite cool conditions to run over Norland Moor and after all the lovely days we have had recently!
The winning time was 35.54 from Rob James of Royton Harriers, followed by Chris Miller from Harrogate Harriers in a time of 36.32 and 3rd man home was Ged Callan from Bingley Harriers in a time of 39.50.
The first lady back was April Caufield from Halifax Harriers in a time of 45.53, followed by Stacey Cleal from Queensbury Running Club 48.13 and 3rd lady Sophie Baxter again from Halifax Harriers in a time of 54.13.
LV40 was Alison Smith of Holmfirth, LV50 was Helen Hudson of Stainland Lions, LV55 Kath Hoyer of FRA, LV65 Sue Exon from Trafford.
MV40 was Breton Holdsworth U/A, MV45 Adam Storer again U/A, MV50 Robin Tuddenham from Todmorden Harriers, MV55 Paul Jeggo from Springfield Harriers, MV60 Steven Melline from Rossendale, MV65 Jan King from Stainland Lions and MV70 Jeff Norman from Altrincham.
Halifax won both the mens (Rob Macdonald, Will Stewart and Tim Baxter) and ladies (April Caufield, Sophie Baxter, and Hazel Berrett) team prizes.