Halifax Harriers Ladies Win Again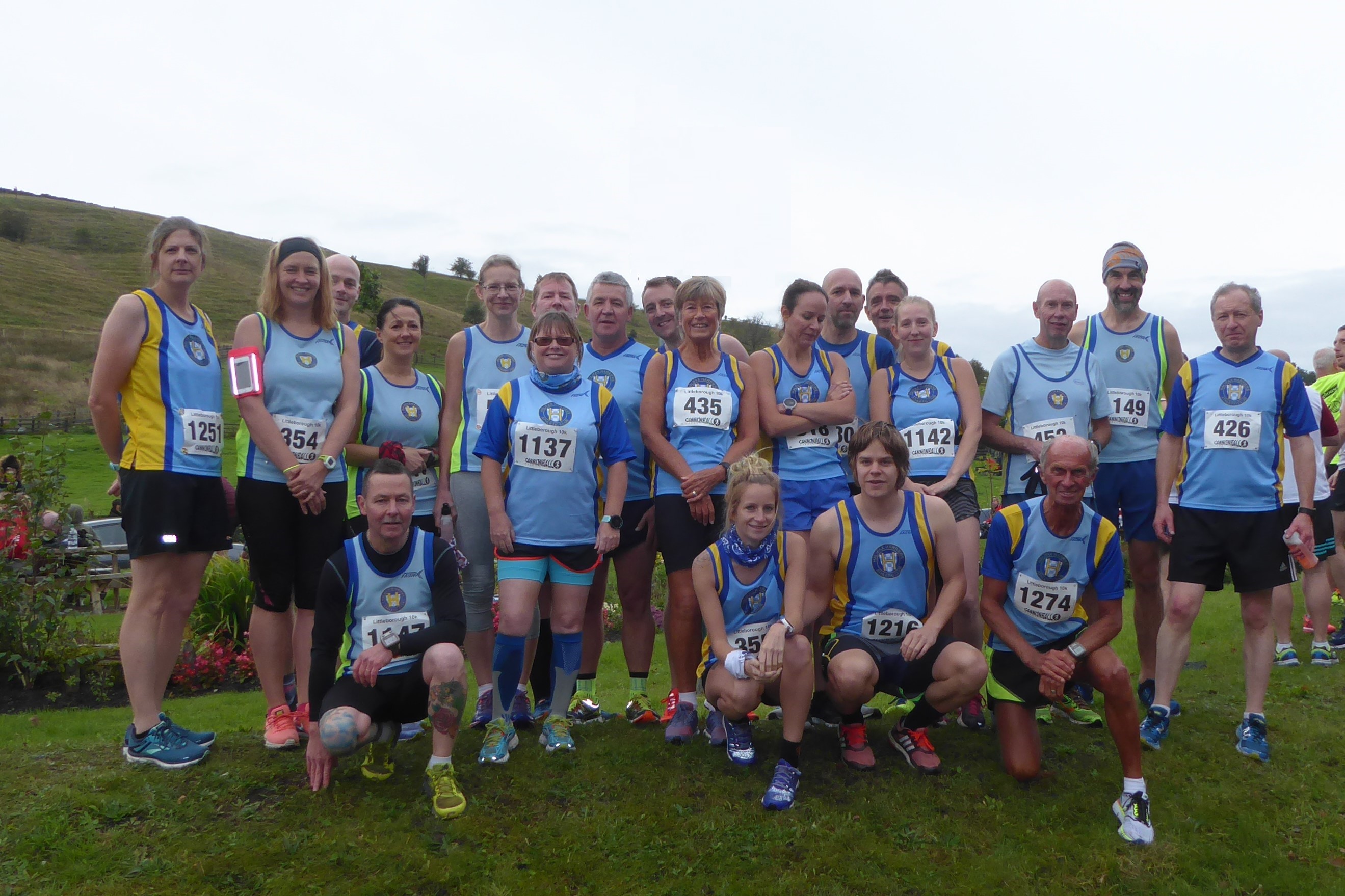 Good conditions greeted the 30 Halifax Harriers at the Littleborough 10k, just a slight nip in the air, but dry with only a light breeze.  This year the race attracted a record field of 343 runners, an increase of 90 on last year.  The first kilometre is a steady climb up to Hollingworth Lake, then its two laps round the lake on a mixture of roads and dirt paths.  At parts the road narrowed and it was difficult to pass cars and caravans which did slow some runners for a short time.  After the laps of the lake it was a relatively fast last kilometre back down to the finish in Littleborough.
Halifax Harriers, for the third year in a row, won the ladies team prize.  They were led home by Johanna Sutcliffe 41:16 (1st F40), followed by Helen Ward 46:33 PB (2nd F35) and Sophie Baxter 48:41 PB (3rd F40).
The first lady back for the club was April Caufield 41:02 (2nd lady) but did not count in the team results due to her name being missed off team result.
Michael King had an excellent run finishing in 8th place in a PB of 37:18.  Next back for Halifax Harriers men was James O'Rourke 39:53, with David Ingle not far behind 40:33 (1st M55).
Other age group winners were Robert Hick 43:52 (2nd M60), Raymond Hall 48:46 (1st M70), Deborah Kirkbride 54:56 PB (3rd F55), Susan Hall 61:24 (2nd F65).
Other runners for the club were Will Carver 41:25, Will Stewart 41:49, David Nutton 42:48, Tim Baxter 43:47, Paul Greenslade 45:39, Tim Pegg 45:52 PB, Nigel Taylor 46:07, Nigel Rigg 47:23, Ian Giles 48:42 PB, Samantha Layfield 49:13 PB, Paul Bunker 49:54, Clare Newton 50:44 PB, Martin Ellis 52:12, Daniel Ryan 53:31, David Parrington 54:55, Martin Haigh 57:46, Monica Gallagher 58:13 PB, Kirsty Carver 60:32, Audra Naylor 62:04.
West Yorkshire Track And Field Championships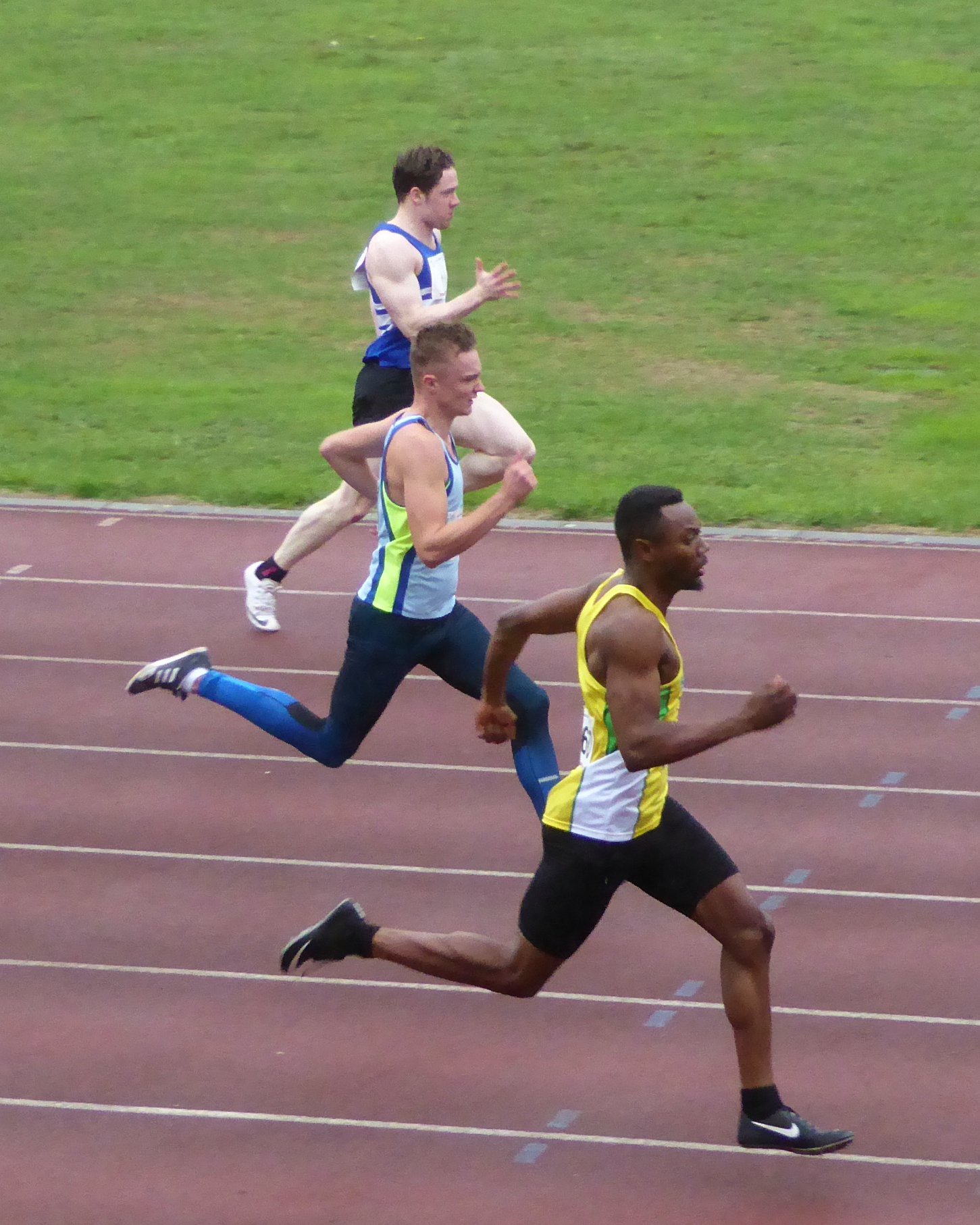 Cleckheaton hosted the West Yorkshire Track and Field Championships.
Louise Royston, the Yorkshire and Northern 400m champion, was off to a flying start with victory in the 400m 57:62, followed by 1st in the 200m 26:38 and silver in the 100m.
Lorna Gill, 1st place in the recent league position, was 1st in the 100m 12:77 and gold in the long jump.
Claire Ryan was 2nd in the 400m and 4th in the 100m.
Jessica Hirst again excelled in the throwing events with 2 gold medals in the hammer 37:56 and discuss 30.65m.
In the U/20 age group, Lucy Mills won gold in the 800m, silver in the 400m and gold in the 200m.
Senior Harry Mallinson gained 400m gold in 52:35 and double silver in the 100m and 200m.
Harry Keighley ran a PB and gold in the 400m and a tactical 1st in the 800m.
U/17 George Gillgrass won gold with a new championship record in the javelin 28.67.
Ben Combe was 1st in the 100m with a new PB.  Gillgrass ran 2nd with James Slow PB 3rd in the race.
Vale Of York Half Marathon And Other Races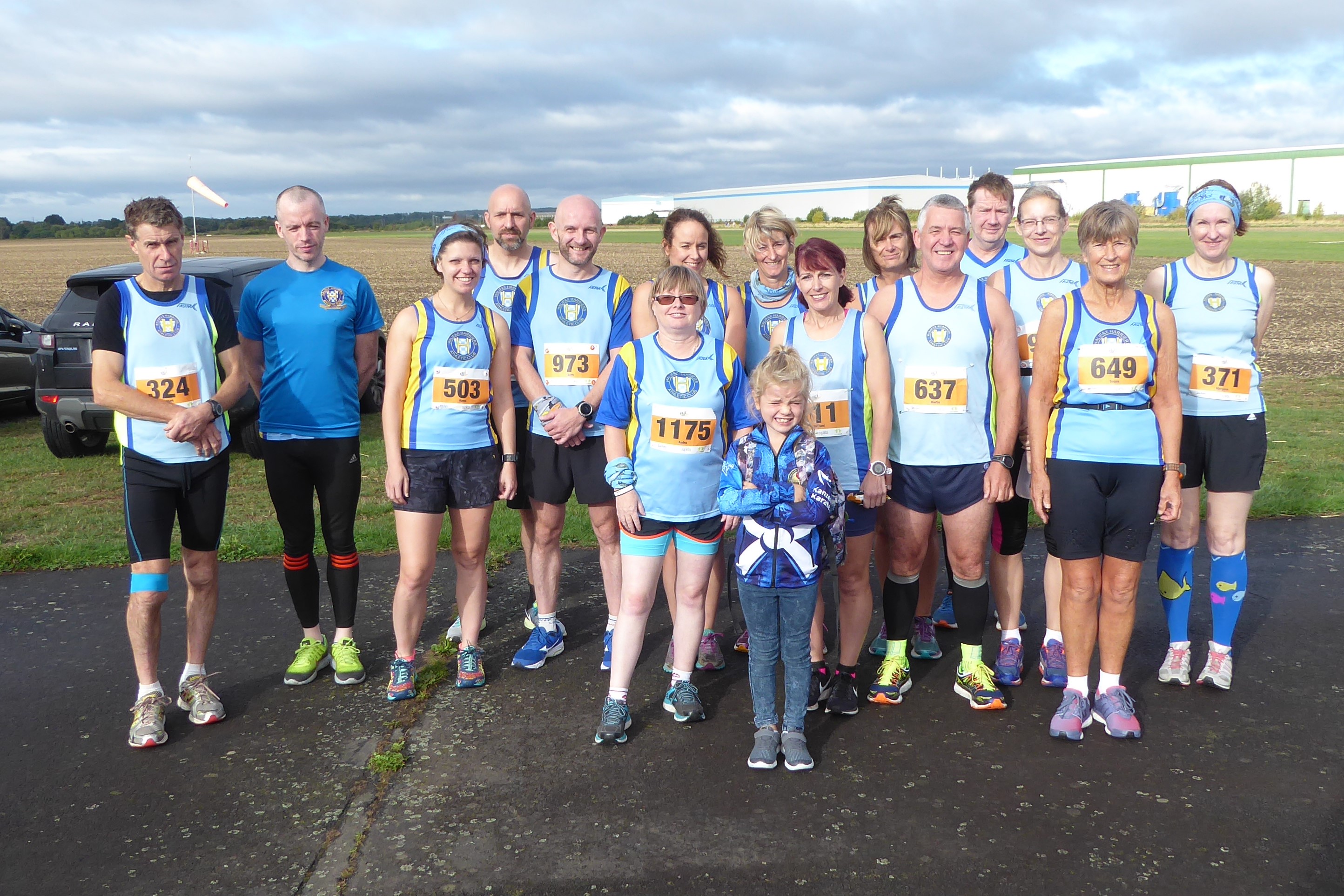 VALE OF YORK HALF MARATHON
Twenty members of Halifax Harriers returned once more to Sherburn in Elmet for the Vale of York half marathon.  This race has grown in size over the last five years and attracted some 2000 runners to this flat race on closed roads.  The race has only about 50m of elevation spread over the course and so is a potentially PB course.  The weather conditions on the day were ideal for the first eleven miles or so, then, when the runners were starting to tire, they were met by a stiff head wind into the finish.
Halifax Harriers, however, did have eight runners who set PB's on the day.  They were James O'Rourke 1:29:03, Keith Lemon 1:40:38, Nigel Taylor 1:44:53, Sophie Baxter 1:46:24, David Parrington 1:52:57, Stefanie Dickinson 1:58:21, Deborah Kirkbride 1:58:27, Audra Naylor 2:17:08.
Other runners for the club were:- Michael King 1:25:16, David Ingle 1:29:31, Mark Crabtree 1:32:05 (3rd M60), Rachael Beaumont 1:38:43, Simon Lea 1:40:30, Margaret Deacon 1:52:04, Hanni Maeer 1:52:30, John Moore 1:57:32, Andrea Ackroyd 2:01:11, Susan Hall 2:15:48, Jenny St Romaine 2:17:10, Martin Haigh 2:21:21.
THE GREAT NORTH RUN
Five members of Halifax Harriers travelled to Newcastle for the ever popular Great North Run half marathon.  This is a race in which the majority of runners are out to raise funds for their favourite charity or just to experience running with thousands of other people.  Fast times are not easy to achieve due to crowds and time taken to cross the start line.
Halifax Harriers runners were:- Marc Rocheteau 1:44:47, Jazz Sandhu 1:49:42, Samantha Layfield 1:59:43, Paul Bunker 2:00:14, David Cooper 2:06:14.
SUCCESS FOR APRIL AND WILL AT THE YORKSHIREMAN
Halifax Harriers April Caufield and Will Stewart were winners of the mixed pairs at the Yorkshire Pairs full marathon, with a winning time of 4:27:44. 
Also running the full marathon was Will Carver (28th) 4:16:15.
Four Halifax Harriers competed in the half marathon with Steve Sladdin finishing first for the club in 2:02:00.  He was followed by Hazel Berrett 2:30:54, Sarah Sladdin 2:43:42 and Sam Wright 2:51:13.