Wadsworth Trog – 3650ft Of Climb Over Rugged Moorland And Fells.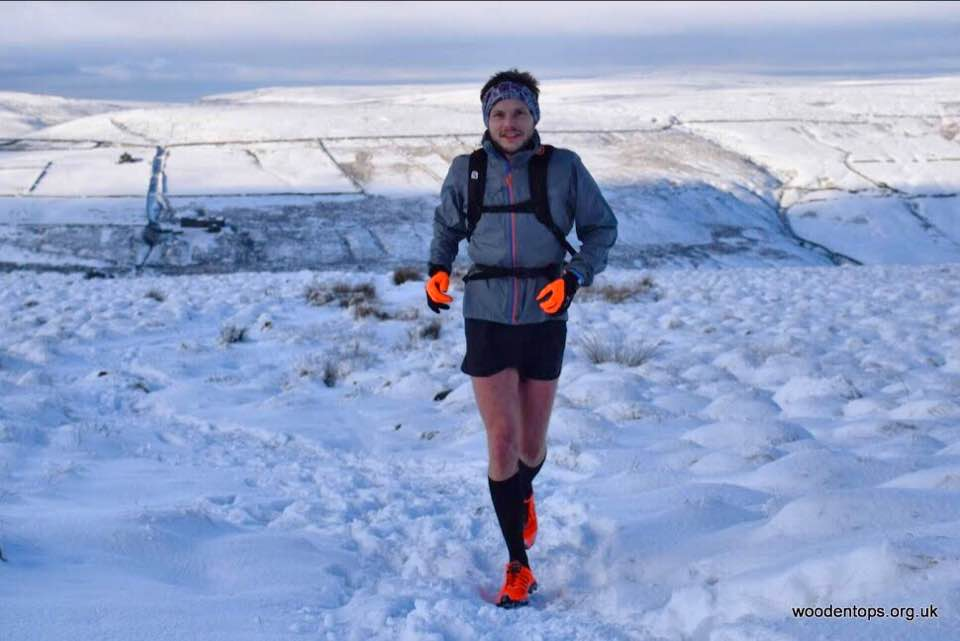 "What makes this route so challenging is the terrain. The boggy ground saps your legs of energy and it's a constant battle with the tussocks and the mud. The weather is usually inclement on race day and you have to be able to navigate as very little of the route is flagged. Not surprising then that many people refer to it as 'The Beast'. Only tough, seasoned fell runners need apply. This is not a race for the pretty boy athlete" – Ben Mounsey
Last year I entered Wadsworth Trog after a night out. I had no regrets. In fact, as soon as I've entered something, I'm 100% committed to it unless I'm ill, which very rarely happens, if ever. I credit this to the years of mucking around on my grandparent's farm and never washing our hands after tending to the animals –-It clearly never did us any harm!
I digress. The Trog is renowned in fell circles as a 'classic', which in my eyes is the TV version of Steptoe and Son or Porridge- I like a classic!
Unfortunately, in true SS style, I managed to have a slight mix up with my dates and realised that it was far sooner than I had initially thought, so any intention of doing a recce in advance went out of the window. Quite anxious about people's reaction when I mentioned 'The Trog' I began to realise that perhaps I had bitten off more than I could chew.
I nervously toyed between running the Trog or giving it a miss, for my navigation skills are on a par with a blind pigeon. Also, temperatures have recently plummeted to below zero- Lost and cold don't seem too alluring! However, as I wrestled with the idea of getting lost on the moors, being found semi-conscious and reminiscent of an explorer that didn't quite make the summit of Everest, I just knew I had to do it. I had also only had a diet coke at the HH quiz the night before and decided not to have a Guinness, which pained me. So, I had absolutely no excuse not to run.
Anyway, having not reccied the route, I decided that the sure-fire way to success was to keep up with the person in front. That was my strategy. Until there was no one in front…
The first 5 miles of the race weren't so bad; the ice made a few of the descents a little tricky.
However, at this point I had not fallen over, nor had I broken an arm, so I felt that I was on to a winner. One thing I have realised about distance running is that the race never truly starts until it's about to end. About half way through the race and my energy was well and truly sapped. I think the cold had a part to play and it was the first time I have ever eaten a full Trek bar and genuinely enjoyed every single mouthful. This 'picnic' was a welcome addition at this point in the race and gave way for a 'second wind'. This bout of energy propelled me up another hill and past a lovely photographer who was handing out copious amounts of Jelly Babies. As I reached the summit, I can only describe what I saw as extra-terrestrial. A crater- like vastness which was dusted with icing sugar.
Despite the challenging conditions, I still felt pretty good at about 17 miles. The last two miles, however, became the hardest of the lot as I lost the runner in front and struggled to navigate the finish. I quickly realised that I was heading in the wrong direction (I could no longer hear the footsteps of the guy behind me). So I retraced my steps, caught sight of a flag, and headed down a dirt track.
Eventually, I spotted a marshal who pointed me in the direction of the final CP and headed up another great big hill. Reaching the summit of the hill, I ran down the final dirt track, did the "Victory lap" which I now know wasn't optional, but actually the end of a very exhausting few hours of running.
I'd say the last few weeks of training have been fantastic for getting into shape and focussing the mind on distance and pace. It's by no means a record-breaking fete, but it will serve me in good stead for future months and what I have planned. 
A Dozen Pb's At Dewsbury 10k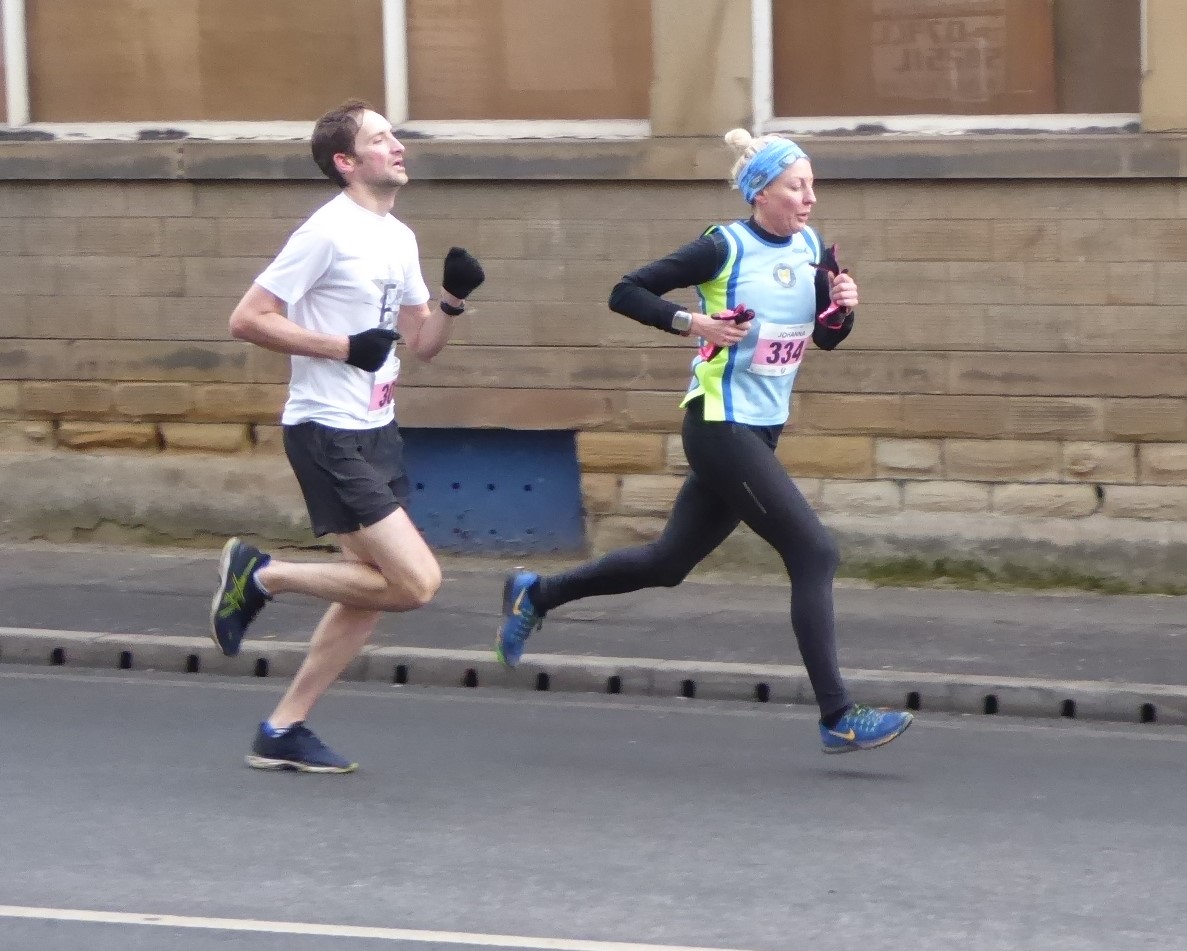 A DOZEN PB'S AT DEWSBURY 10K FOR HALIFAX HARRIERS
Yet again at the Dewsbury 10k, Halifax Harriers runners set numerous PB's on this fast course.  The race starts and finishes on Dewsbury ring road close to the market.  The route is along Bradford Road out towards Birstall and returns the same way.  There is only a slight incline going out of 40m or so, but the return leg seems so much easier and runners are able to pick up the pace on the way back.  This year the runners were greeted with temperatures hovering around zero, but, with no wind, some good times were achieved.
Halifax Harriers had 30 runners at the race out of a field of 1,700, an increase of 500 on last year.  Possibly the most outstanding run by a club member was by Johanna Sutcliffe with a PB of 37:42 (2nd F40).  Three other ladies set PB's – Rachael Beaumont 41:53, Helen Ward 42:24 and Deborah Kirkbride 54:09.
The Halifax Harriers men were led home by Niall Smith in a PB of 35:22, with Michael Gaughan running 36:01 and Andrew Wiggins setting a PB of 37:00.  PB's were also set by the following men – James O'Rourke 38:44, Tom Paget 38:57, Will Carver 39:15, Tim Baxter 41:56, Nigel Taylor 43:07, Paul Bunker 47:54.
Geoff Cumber won the M70 age group in 44:36 with Raymond Hall second M70 in 47:35.
Other runners for the club were David Ingle 39:02, Robert Hick 43:15, Keith Lemon 45:08, Nigel Rigg 45:44, Wayne Stevens 47:34, Mark Gaughan 47:55, Sophie Baxter 49:15, Margaret Deacon 49:40, John Moore 52:53, Kirsty Carver 56:53, Monica Gallagher 57:44, Susan Hall 59:44, Audra Naylor 62:48, Dene Townend 67:58.
Halifax Harriers Ladies Win Again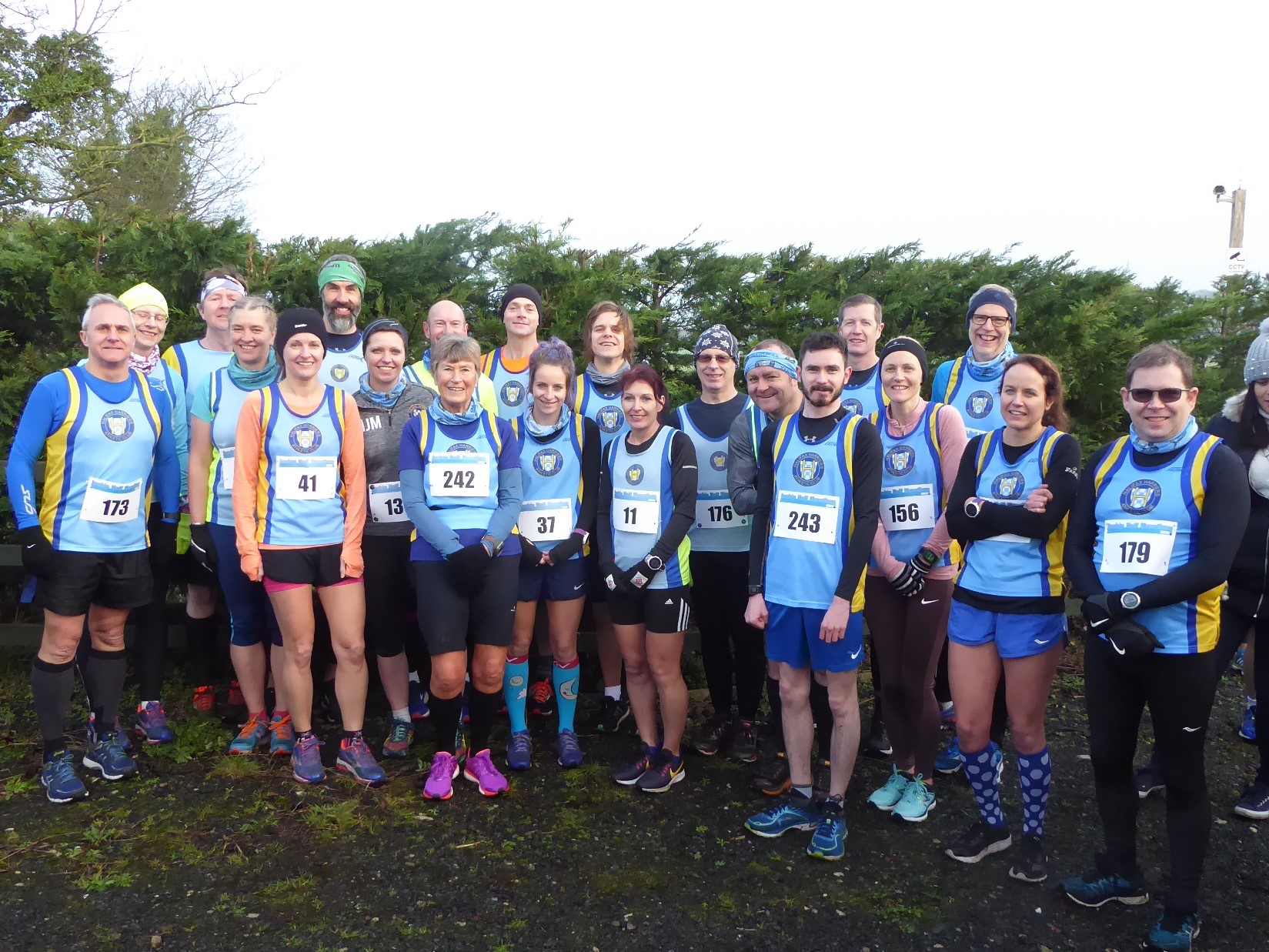 At the Inskip Half Marathon, April Caulfield was the ladies winner in a very respectable time of 1:27:53.  She led the ladies team to victory in the race with Rachael Beaumont 1:33:08 (PB) and Angela Clarke 1:40:29 making up the team.
Halifax Harriers had 22 runners at the race which started and finished at Blackpool Dog Showground, which is basically a field stuck out in the countryside.  The race itself was run on pleasant country lanes in excellent conditions for the time of year.  With the route being almost flat, good times were recorded with a number of PB's.
First to finish for the club was Niall Smith in a PB of 1:22:33, followed by Andrew Wiggins 1:24:09 and Will Stewart 1:24:59 (PB).
PB's were also set by Will Carver 1:29:32, Wayne Stevens 1:42:56, Erika Nightingale 1:45:41 (2nd F40), Deborah Kirkbride 1:58:24 and Kirsty Carver 2:15:29.
Other runners were – James O'Rourke 1:27:53, David Ingle 1:31:06 (2nd M55), Marc Rocheteau 1:39:52, Robert Hick 1:40:28, Hanni Maeer 1:49:33, Daniel Ryan 1:51:25, Sophie Baxter 1:52:11 (3rd F40), Martin Ellis 1:55:35, John Moore 1:57:06, David Parrington 2:04:11, Susan Hall 2:12:36 (1st F65).